Porsche 911 Cabriolet - best convertibles
The 911 was designed with the cabrio model in mind, so it handles just as well as the coupe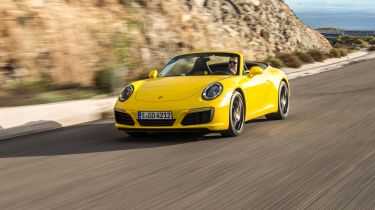 Buyers looking for the sharpest handling four-seat convertible should look no further than the Porsche 911 Cabriolet. The price is high – entry-level models will set you back over £80k – but this car is as good to drive as the latest 911 coupe – and with a flick of a switch, even at speeds of up to 35mph, the fabric roof folds in 13 seconds.
As with the regular 911, the Convertible comes in 350bhp 3.4-litre Carrera and Carrera 4 guises, or as a Carrera S, Carrera 4S, Turbo or Turbo S with different power outputs from a 3.8-litre engine. There are also seven-speed manual and PDK automatic gearboxes. All models offer exhilarating performance, although that means steep running costs – even the basic cars manage fuel consumption of only 31.0mpg, while insurance group ratings are high, too.
The interior feels reassuringly expensive, though, and buyers can expect to have few problems with their car. That said, the 911 Cabriolet isn't particularly practical – the luggage space in the nose is 135 litres, and the dimensions and engine layout mean the rear seats aren't much use for passengers. They do double as handy extra room for luggage, however.
Best convertible cars 2018