1. Aston Martin DB5 - James Bond: Goldfinger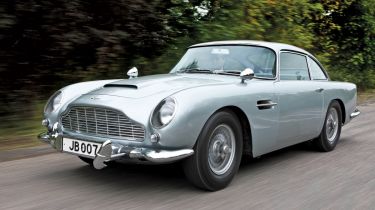 What else could top this list? The Aston Martin DB5 is quite possibly the most famous car in history, thanks to its starring role in one of the best Bond movies of all time – Goldfinger.
Bond's DB5 had everything: drop-dead gorgeous looks, speed and enough gadgets to get 007 out of any tricky situation. The DB5 was equipped with an ejector seat, front mounted machine guns, a bulletproof screen, tyre shredders, a GPS tracker, an oil slick… and we could go on.
The car's iconic nature meant that it reappeared for cameos in other Bond movies; after a long absence of around 30 years, the DB5 briefly appeared in GoldenEye and Tomorrow Never Dies. Among the more memorable moments in recent Bond films was the time Daniel Craig's 007 used the car to escape Silva in Skyfall, and employed the car's front-mounted machine guns to defend Skyfall Lodge.
Rockstar Games even parodied the Bond car in Grand Theft Auto V. The in-game car is called the Dewbauchee JB700, and is the focus of a mission in the main storyline. The player uses the car's in-built machine guns, spike deployment and ejector seat to evade the police. 
Do you agree with the results of our poll on the best movie cars ever? Are there any other great movie cars you think should have made the cut? Leave us a comment below!
Top 10 greatest movie cars of all time