Best used coupes
The Audi TT is the best used coupe in our Used Car Awards 2020
Best used coupe: Audi TT
Our pick: Audi TT 2.0 TFSI Sport (2015/15, 77k miles, £12,950)
Audi really moved the TT on with the Mk3, so much so that it teased us first with the interior at the Consumer Electronics Show in 2014. That's because the TT came packed with tech – it was Audi's first model to use its Virtual Cockpit, a 12.3-inch digital panel that showed a sat-nav map and all the infotainment functions in front of the driver. There's no central dashtop screen here.
That makes for a beautifully minimalist cabin that's loaded with the high-quality materials you'd expect from an Audi that's only five-years old. Touches such as the heated seat and climate controls set inside the air vents were revolutionary at the time.
The tech underneath the angular, pin-sharp bodywork creases is just as advanced. Believe it or not, this sporty coupé is based on the same platform as the VW Golf family hatchback, but with Audi working its magic on the suspension and steering, the TT is as agile as you'd ever want a sports car to be.
Audi offered a diesel when the TT first went on sale, but stay true to the car's roots and go for the 227bhp 2.0 TFSI petrol – combined with Audi's sharp-shifting dual-clutch S tronic auto, the 0-62mph sprint takes just 5.3 seconds, or you can opt for a little more involvement (and probably save a bit of cash) by going for the sweet six-speed manual.
Entry-level Sport trim comes with enough kit, but look at cars with a few options fitted – such as the Tech Pack, which includes navigation – to make life with the TT a little easier. Quattro four-wheel drive is also available, but we don't think you need it; simply revel in the usability and style on offer here, helped by a big enough boot and two small rear seats for extra luggage space, all for a fraction of the TT's cost when it was new.
Finance options
Take out a loan on this TT and you could expect to pay around £400 per month. But opt for PCP finance through BuyaCar.co.uk, and monthly payments are less than half that: £199 on a three-year contract with a £1,350 deposit. The key is the TT's sheer desirability, meaning it's still valuable at the end of the contract, if you decide to hand it back. We wouldn't blame you if you wanted to keep it, but that will cost a further £7,709.
Commended
Toyota GT86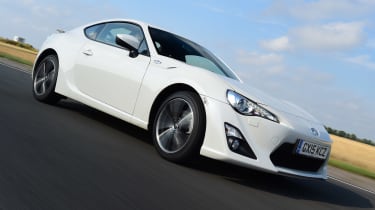 The GT86 is about as pure as coupés come. There's a 2.0-litre boxer engine at the front, drive is sent to the rear wheels, while we'd go for the snicky six-speed manual, because it's much more involving. The steering and balance are great and you can now pick one up for as little as £7,000.
Left-field choice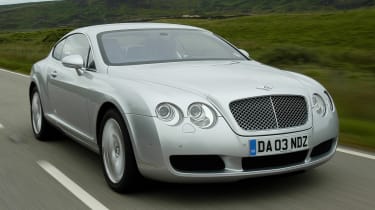 Buying a Bentley for the price of a new supermini certainly might be a left-field choice, so budget for higher-than-average running costs, and maybe a warranty. With cars showing less than 50,000 miles on sale from £15,000, it's certainly a tempting proposition, given the style and luxury on offer.