Bentley Bentayga – best luxury cars
The Bentley Bentayga comes with mighty performance and a glamorous image, ideal for drivers looking for a luxury SUV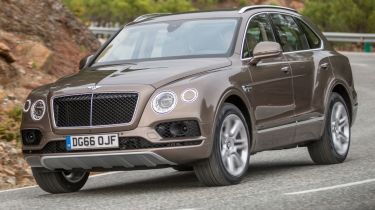 The Bentayga may be criticised for driving a bit like a top-spec Audi Q7, but it is still an incredibly well polished car that puts in a strong claim to be the most luxurious SUV on the market. The British marque went big with its first attempt at an SUV with the First Edition models released at launch costing £230,675.
While the Bentayga is hand-built, the body-in-white is actually manufactured in Slovakia. After this it is sent as an aluminium shell to the exotic land of Crewe where it undergoes its final assembly.
To ensure that the Bentayga is up to standard when behind the wheel, it is based on the same MLB architecture in which the Q7 and Porsche Cayenne are built upon. Should you wish to take advantage of Bentley's most potent powertrain for the SUV, you can opt for a 6.0-litre W12 that pumps out 600bhp and 900Nm of torque.
Top 10 best luxury cars