Hennessey Venom GT - world's fastest road cars
The unholy alliance of a Lotus Exige and Corvette V8 creates one of the fastest cars in the world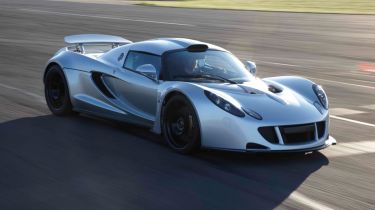 Top speed: 270mphPrice: £750,000
Based on a modified Lotus Exige and packing a mighty 1,244bhp twin-turbocharged version of the Chevrolet Corvette's V8 engine, the Hennessey Venom is capable of an astonishing 270mph. It proved that fact in 2014 on the tarmac of the Space Shuttle runway at the Kennedy Space Center in Florida.
However, there's a caveat. To get an entry into the Guinness Book of Records, the Venom would have had to run at an average of 270mph+ over a measured mile in both directions to account for any tailwinds. It hasn't. Instead, Hennessey says the Venom reached its peak speed at the end of a single acceleration run, and we don't know if there was a following wind.
Either way, the idea of bolting a monstrous twin-turbo V8 into a Lotus Exige will terrify anyone who's ever driven the tiny track car, but of course Hennessey extensively modifies the entire package to create the Venom GT. 
• What is the world's fastest car?
However, the latest development out of Texas is an all-new model called the Venom F5, which is claimed to be able to break the 300mph barrier. That would be 22.1mph faster than the current record held by the Agera RS, if it can live up to the claim.
Will it break it? Who knows, but it is safe to say that the future looks bright for petrol heads and speed freaks as the industry heavyweights shape up for a high-speed slugging match. 
Top 10 fastest road cars 2019
2. Hennessey Venom GT
6. Zenvo TS1 GT
7. Noble M600
9. Ford GT
10. McLaren 720S