Ferrari F40: Buying guide and review (1987-1992)
A full buyer's guide for the Ferrari F40 (1987-1992) including specs, common problems and model history...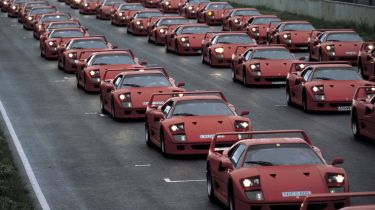 Is the Ferrari F40 the most iconic supercar of the 1980s? it's certainly up there with the Countach, but this was also an exceptionally important car for Ferrari. It was the last road car signed off by Enzo himself, and it signalled the beginning of the 200mph era for Ferrari.
It evolved out of the Group B Ferrari 288 GTO, and was powered by a brilliant 2.9-litre twin-turbo V8 engine – pushing out in excess of 478bhp. Making no bones about its lack of interior luxuries, Ferrari marketed the F40 as a racing car for the road… even though it was never technically built to go racing.
The 202mph Ferrari felt raw and absolutely phenomenal, thanks in part to the extremely low 1100kg weight. Every car nut wants to own an F40 at some point in their life. That's a fact. Okay, Ferrari got over-excited and ended up building 1315 of them rather than the 400 they initially suggested but, even so, this is both an iconic Ferrari and one of the greatest, most exciting road cars ever made.
So it's actually brilliant news for potential buyers that they made so many, otherwise an F40 would be valued in the millions by now. At around £500,000-800,000 today, depending on mileage, it actually offers great value. Yes, really.
Here's some man-maths to prove it. Adjusted for inflation, the F40's original list price of £163,000 in 1987 becomes £417,000 today, so values haven't gone up as much in percentage terms as you might think. Looking at it another way, the McLaren F1 is probably the world's greatest supercar ever made, but that doesn't make the F1 worth 12-15 times more than one of the greatest Ferrari supercars ever made.
But it's not all good news, as potential F40 buyers should be aware that the F40 delivers one of the rawest driving experiences of any recent roadgoing Ferrari and, on a long trip, an F40 can soon become a complete pain in the backside. Literally.
They're noisy and completely impractical, there's no real boot to speak of (unless you jettison the spare wheel under the front hood), they're impossible to park, LHD only and the easiest car in the world to a hit a kerb with. But an F40 is also one of the most aggressively beautiful supercars ever built, and today's draconian legislation means there will never be another Ferrari like it ever again. That's what makes the F40 such a great supercar buy today.
Which Ferrari F40 to buy?
In total, there were more than 1315 F40s built, which means that there are plenty of cars to choose from. Over the course of the five-year production there were a few changes, but generally you will buy on condition and mileage, rather than age or options.
Ferrari Classiche certification is great if you're looking for an extremely original example. The earliest 50 or so cars can be identified easily due to Plexiglas sliding windows, while pre-1991 model are also desirable due to their lack of catalytic converters.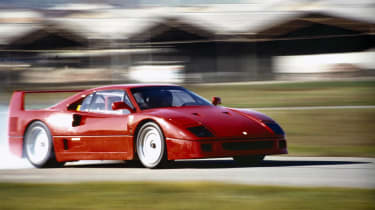 Later models were also offered with adjustable suspension, however it's the fixed cars that are most sought after. US-spec cars differ in a few minor ways. All F40s were originally painted red, however a few have since been re-sprayed a different colour.
It's also worth noting that the F40 was originally only available in left-hand drive form, although seven right-hand drive examples were produced for the Sultan of Brunei… Although the F40 wasn't designed for motorsport use from the outset, a hand full of race-spec LM cars were produced by the factory.
Ferrari F40 performance and specs
Engine
2936cc, twin turbo V8
Power
478bhp @ 7000rpm
Torque
425lb ft @ 4000rpm
Transmission
Five-speed manual gearbox
0-60mph
3.7sec
Top speed
202mph
Dimensions and weight
Wheelbase
2451mm
Length
4430mm
Width
1989mm
Height
1130mm
Weight
1100kg
Ferrari F40 common problems
• Engine: the Ferrari V8 engine is generally bulletproof, although there are a few things you need to keep an eye out for. Check for oil leaks, which are quite likely from the cam covers, and also possible from the turbo cooling pipes.
• Servicing: regular servicing is the key, so be sure to buy a car that has been pampered. Turbos shouldn't give trouble unless the car is driven very hard or on track often, while the cambelt should be replaced every two years without fail.
• Brakes: it's well know that the brakes on the F40 are probably its weakest link. Many cars, especially those used on track, have been upgraded. The standard set-up is okay for road use, but at more than £6000 for a set of discs and pads, make sure they are in good order.
• Fuel cell: as an F40 owner, one of the big expenses you will have to endure is the replacement of the rubber fuel cells. Ferrari recommends this is done every ten years, although US-spec cars were fitted with a much more durable Aluminium tank.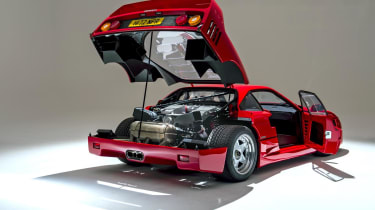 • Transmission: like the engine, the five-speed transmission is extremely reliable. When cold it might feel a little recalcitrant but as soon as the oil has warmed through it should feel slick slotting into each gear.
• Clutch: like most supercars, the clutch has a pretty short life – especially if the car has been abused from a standing start. Expect to pay around £4000 including parts and labour to replace it.
• Resprays: all but the very lowest mileage cars will have been repainted at some point, so don't let this put you off. Stone chips scratches are easily picked up, so check the paint carefully. It's also worth checking the quality of any recent paintwork. A good tip is to check the condition of the headlight covers. Stone chipped headlight covers can be a giveaway to a car that's had a hard life.
• Engine cover: inspect the underside of the engine cover for any stress fractures or cracks – as this can flex.
• Air conditioning: it's worth checking that the air-conditioning works as you will really need it in the summer months.
• Trim: carefully inspect the condition of the interior and plastic trim. Most of this can be replaced with genuine parts from Ferrari, but as you might expect this can get frightfully expensive.
Ferrari F40 owners clubs, forums, specialists and websites
• www.ferrariownersclub.co.uk• 
www.ferrariownersclub.org• www.ferrariclubofamerica.org• www.ferrariclubitalia.it• 
www.bobhoughtonferrari.co.uk
Ferrari F40 summary and prices
The F40 is an amazing machine to drive, and offers a pure experience many more modern Ferraris just can't deliver. This is the key to the car's success, and why despite the high build numbers, values are so extreme. Ultimately, it's still a cheaper alternative to the much rarer 288 GTO, and if your intention is to use the car as it was intended, then there are lots of usable examples on the market.
Prices for the higher-mileage examples start from around £600k today. These will perhaps have been used on track, and most certainly will have been painted more than once. They've also potentially been fitted with upgrades that aren't easily removed, which isn't a problem unless you want Ferrari Classiche certification.
£750,000 should be enough to find a more original example though. Then there are the collector-grade cars. With minimum mileage and the right history, an F40 could potentially fetch over £1million to the right buyer. If you're looking for the rare LM version then be prepared to pay a lot more.
Thinking of buying a future classic? Then take a look at these potential future classics...