New BMW M4 CS in the works
A new hardcore M4 variant will fill the gap between the standard car and the CSL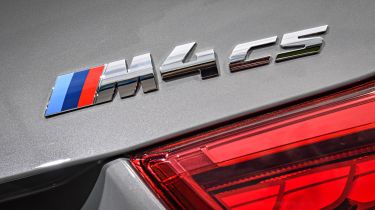 BMW has revealed it will launch an even sportier version of the M4, called the CS. Like the previous-generation M4 CS we expect the car to share upgrades with the new M3 CS. BMW also announced that facelifts for the M3 and M4 are due to arrive in 2024.
The previous F82-generation M4 CS was launched in 2017, followed by the M3 CS. This order has been reversed for the upcoming car, however, with the current M3 CS having arrived earlier this year. 
We expect the new BMW M4 CS to follow the same brief as the old one, providing more performance (and power) than the standard car. The engine should be the same as that used by the M3 CS - a 3.0-litre straight-six with retuned turbocharging for an extra 39bhp, taking the total outputs to 542bhp and 650Nm of torque. 
With the aid of BMW's four-wheel drive 'xDrive' system, the M3 CS can go from 0 to 62mph in 3.4 seconds - a figure that may be bested by the smaller and presumably lighter M4 CS. 
It won't be just straight-line speed where M4 CS owners will see a benefit. The car should also perform better than a standard M4 in the corners thanks to the more aggressive camber set up, bespoke damping and springs, increased rigidity and track-ready tyres, as seen on the M3 CS. Carbon-ceramic brakes will probably remain an option, however. 
To help reduce weight, we expect to see a carbon-fibre roof, bonnet, front splitter, rear spoiler and air intakes. The old M4 CS retained its rear seats but we've seen BMW ditch the rear bench for bucket seats in the current M5 CS so we'll have to wait and find out. 
BMW's M division celebrated its 50th anniversary last year and it looks like next year will be a busy one, too. Alongside the M4 CS will be a new M5, available in saloon or estate guise and with hybrid power for the first time. BMW also confirmed facelifted (or 'LCI') M3 and M4 models will arrive - meaning we could see the M4 CS come with the standard car's mid-life updates.
In terms of pricing, the M4 CS should slot neatly between the range-topping £128,820 CSL and the £80,050 M4 Competition, so around the £100,000 mark seems about right. 
Subscribe to the UK's favourite car magazine: get Auto Express delivered every week...