Fiesta vs Fiesta
Ford Fiesta Mki vs Ford Fiesta 1.4 Zetec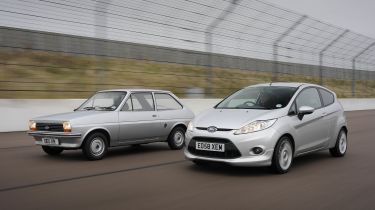 There can't be many of us who haven't driven, ridden in or owned a Ford Fiesta. The humble blue oval hatchback has become a part of British culture, providing first cars for a generation of drivers and cheap, affordable transport for millions. And while production lines in this country fell quiet some years ago, most of us still regard the Fiesta as a national treasure.
The new model, which hit UK roads just a couple of months ago, looks set to carry on the good work. Modern, intelligently designed and great to drive, it ticks all the right boxes when it comes to owner satisfaction. But just how good is it? Does it compare to the machine that effectively kick-started the supermini sector in the Seventies?
To appreciate exactly how important the first-generation Fiesta was at the time, you need to delve into the history books. Back in 1975, Ford was entering the newly established supermini market for the first time, and its newcomer was under serious pressure to perform.
But perform it did. Sales took off and the Fiesta's front-wheel-drive template became the one to copy.
The new version – the sixth generation of car to wear the Fiesta badge – is charged with a no less important job. With Ford's global finances wobbling, the Fiesta needs to be a success around the world.
Aside from the obvious physical differences – the new model is the same length as a Seventies Escort – it's the gulf in driving experiences that strikes the biggest contrast.
At the time, the Fiesta was praised for its grown-up feel, refinement and equipment levels – qualities that are a little harder to spot these days. Our 1976 model, owned by Ford's Heritage division, feels anything but modern now. The suspension is set up for comfort rather than handling ability, while the brakes and steering both require plenty of notice before performing high-speed manoeuvres.
The new version, by comparison, is like a Rolls-Royce. It is whisper-quiet at 30mph and underpinned by a suspension system that Ford's all-conquering rally team would have sold its soul for three decades ago.
Our love affair with the Fiesta is as passionate as it has always been. The new car's sheer competence and ease of use proves that while the engineering has changed beyond all recognition in the past 34 years, the idea of bringing quality motoring to the masses has not.
Facts and figures
Ford Fiesta Mki vs Ford Fiesta 1.4 Zetec
Price new: £1,856 (1976) / £11,255Engine: 957cc / 1,388cc 4cylTransmission: Four-speed manual, front-wheel drive / Five-speed manual, front-wheel drivePower: 84bhp / 96bhpLength/width/height: 3,712/1,585/1,326mm / 3,950/1,722/1,481mm