Used Car of the Year 2021: Citroen C3 Aircross
The Citroen C3 Aircross pulls a range of strong attributes together into a top-performing package that's why it's our Used Car of the Year 2021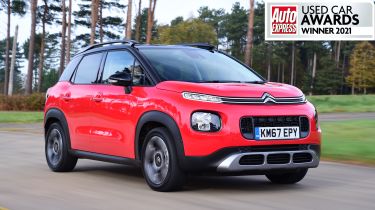 There are some great used car options out there on the market right now as our 2021 Used Car Awards show but we think one car stands head and shoulders above the rest as a used car bargain you really don't want to miss...
Used Car of the Year 2021: Citroen C3 Aircross
Citroen's fabulous all-rounder is practical, perky and brilliantly priced – making it our pick of this year's used-car offerings.
There's a well worn motoring cliche to describe a great all-rounder – but in the case of the C3 Aircross, it really is "all the car you'll ever need". It's no surprise to see it score so well on the used market; indeed, the Citroen scooped Compact SUV of the Year in our 2019 New Car Awards. There were so many reasons why it won on that occasion, and they all remain relevant today.
Its appeal is widespread. For starters, it's highly practical. At 4.1 metres long, it's shorter than a VW Golf, yet it has acres of room; the high roof in particular gives plenty of space front and rear. Clever use of fabrics across the dash and door panels gives the Citroen a feeling of quality that lots of competitors can't match, while smartphone connectivity is excellent.
Many rivals cite sportiness as inspiration, but the C3 bucks the trend. Those soft looks match its ride – the way it floats over bumps is reminiscent of Citroens of old, and it's all the better for it. The strong engines incorporate very frugal diesels and petrols that give strong performance and are easy on the wallet, too.
True to its form when new, the C3 Aircross seals the win thanks to its affordability. Clean, three-year-old examples now dip below £9,000 – and at that money, it's virtually impossible to fault. Congratulations, Citroen; the C3 Aircross is our 2021 Used Car of the Year.
See the latest Citroen C3 Aircross prices on our sister site BuyaCar...
Silver - Volvo S90
When it was new the S90 sat in the shadow of the more obvious German executives, but the fact that it was so overlooked means it's an absolute bargain on the used market. It is spacious, comfortable, incredibly safe and looks fantastic, inside and out. Volvo offers a powertrain for all tastes, with a strong range of petrols and diesels backed up by a petrol-electric plug-in hybrid.
Scour the used forecourts for a well equipped model, and there's even the inclusion of sophisticated driver-assist systems that can take the strain out of long trips. Given that the S90 flaunts such style, comfort and tech for so little money, it came close to scooping the overall prize.
See the latest Volvo S90 prices on our sister site BuyaCar...
Bronze - ​​Volkswagen e-Golf
An electric car that's easily fits into your life – that's exactly what the e-Golf sets out to achieve. A sensible family hatch on the outside, it combines all the usual Golf plus points with a silky, silent powertrain that makes every commute a stress-free, zero-emission breeze. It's one of the most desirable and affordable ways into EV motoring.
While the initial outlay might be a little more than for a petrol or diesel Golf of a similar age, the e-Golf's residuals will hold up well over time, plus you gain the benefit of lower running costs. On a standard home-energy tariff it'll cost about £5 to charge, and with far fewer moving parts than in a combustion car, servicing should be cheaper, too.
See the latest Volkswagen e-Golf prices on our sister site BuyaCar...
Used Car Awards 2021 - all the winners
Find out more about the best used cars you can buy in each market sector with our Used Car Awards...