Ford Fiesta 1.1 Style – cheapest cars to insure
The Ford Fiesta not only looks and drives well, but some models sit in group 2 for insurance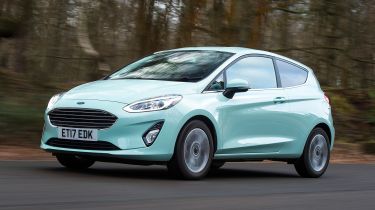 The Ford Fiesta proves month in and month out why it is such a great car by consistently finishing top of the UK's best sellers charts. This is thanks in part to it offering something for everyone, it doesn't matter it you want a harsh riding hot hatch or an easy to drive auto, chances are you will find something suitable in the Fiesta range – including one which is cheap as chips to insure.
The 1.1-litre Fiesta Ti-VCT Style sits in group 2 and while it isn't festooned with tech, you do get ESP with hill start assist, air conditioning and Bluetooth. While you will need to opt for a three door to get the lowest insurance group, moving up to the five-door Zetec (bringing with it the extra practicality), will also move it up to group 5 insurance.
All new Fiestas come with a five-star Euro NCAP rating, meaning you, and all he cash in your wallet you saved on insurance, will be safe. In fact, the Fiesta comes with something Ford calls the NCAP pack, which includes: Lane-Keeping Alert, Speed Limiter and auto-headlamps.
One of the best bits of the Fiesta is its excellent handling, meaning even in the affordable supermini class, drivers can have fun behind the while. 
Cheapest cars to insure 2018
Click the tabs on the top left of this page or the links below for full details on the cheapest cars to insure in the UK at the moment.