4. Ford Mustang GT Fastback - Bullitt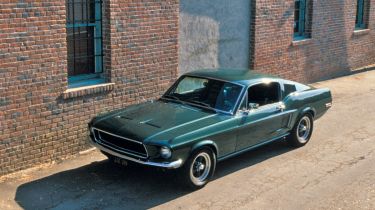 Known as a film with one of the most iconic car chases ever, Bullitt starred Steve McQueen, driving an olive green Ford Mustang GT Fastback that has made muscle car fans go weak at the knees for decades. 
McQueen was a keen driver, and took part in a significant amount of the chase scenes himself, where his Mustang and the Dodge Charger blasted through downtown San Francisco, getting airborne over many of the cities' steep hills.
The Mustang(s) used for filming were heavily modified to take on the fast-paced stunt work, but witnesses claimed that the assassins' Dodge Charger needed little in the way of changes to cope with the stresses of the chase. 
Although the Ford Mustang wasn't the first muscle car to exist, it was the first one to get the recipe just right. The first generation had a punchy engine, it was easy to build and repair (thanks to the robust parts used) and looked the business, too. Plus, all of that was coupled with a relatively cheap starting price of around $2,300 in 1964, which calculates to roughly $18,000 (£12,000) in today's money.
Since then, the Mustang has become a classic name that has lived on for more than 50 years. It's taken all of that time for the UK to get a right-hand drive model, so naturally there's already a 12-month waiting list for one.
Top 10 greatest movie cars of all time