Honda Civic Type R 2001-2005
The first Honda Civic Type R to be sold officially in the UK sits 3rd in our greatest Hondas list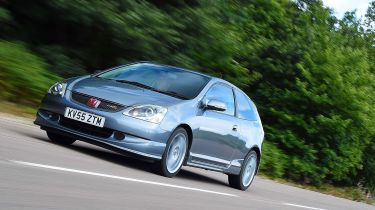 This was the model that really kick-started the Type R hysteria for Honda in the UK. Known internally as EP3 and built in Britain, the car was the first scorching Civic to be sold here officially, and it was a dynamic revelation next to the stodgy hot hatches launched at the start of the millennium.
Clever multi-link rear suspension delivered possibly the most adjustable front-wheel-drive chassis we'd seen, and with lovely balance and poise it gave you the confidence to wring out every last drop of performance.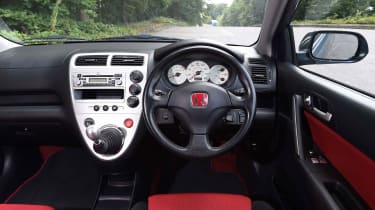 Honda's naturally aspirated 2.0-litre four-cylinder VTEC served up 197bhp at a heady 7,400rpm, so you had to be prepared to thrash it if you wanted to go fast. Doing so was an addictive experience, rewarded with a glorious intake bark, and besides, keeping the revs high was no chore as the light and precise gearbox had a wonderful mechanical feel.
The EP3 Civic Type R may have been a bit short on torque, but with 0-62mph in 6.8 seconds and razor-sharp handling, it had the ability to keep many supercars on their toes along a twisty back road.
Honda Civic Type R: key specs
Engine: 2.0-litre 4cyl petrol
Transmission: Five-speed manual, front-wheel drive
0-62mph: 6.8 seconds
Top speed: 146mph
On sale: 2001-2005
Power: 197bhpTorque: 196Nm
The all-time best fast Hondas
Fast Hondas Special