All-electric Jeep Compass in the works
Jeep will electrify and expand its Compass model to sit as a full-sized SUV
Jeep is planning on using technology from parent group Stellantis to fast-track its electrification process. The Compass is just one of its current cars that will make use of a new all-electric platform, with it becoming the next car to join Jeep's EV lineup. 
The line-up in question will be four-strong by 2025 as Jeep has previously claimed. The new Avenger will be the smallest offering, utilising the STLA Small architecture. Above that we will see the Recon - a hardcore off-roader, inspired by the Wrangler, featuring a removable screen, roof and doors. The flagship EV for Jeep in Europe will be the Wagoneer S, with luxury levels beyond those of the current Grand Cherokee and, of course, EV refinement.
We expect the Compass to be the fourth model, given that the STLA Small, the platform earmarked for the next Renegade, is scheduled to be the last of the set-ups to arrive, in 2026 – beyond the date by when the four-car line-up should be in place. 
The Compass will use Medium, which is expected to become available by the end of 2023, with ranges of up to 400 miles. All of the STLA underpinnings will be able to offer four-wheel drive – a key selling point for Jeep – and will be able to tap into a range of electric-motor specs with total outputs ranging from 168bhp to 241bhp.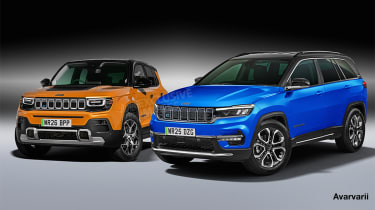 Senior Jeep sources have suggested that the Avenger's arrival will allow both the Renegade and Compass to grow in size – as reflected in our exclusive image, which uses selected cues from the Avenger but reflects a ground-up, pure-electric base. The Compass should continue to offer a more contemporary, restrained look compared to the boxy, retro shape of the Renegade. 
The growth will be particularly significant for the Compass, which will assume the full-size family SUV role within Jeep's electric plan. Both the Renegade and Compass will continue to be sold globally, unlike the Avenger, which won't be offered in many regions outside of Europe, and is not planned for the United States.
Now read our list of the best electric SUVs...