Watchdog: Kia gets a hiding over leather mix-up
"Full leather upholstery" isn't actually leather at all on the Kia Sportage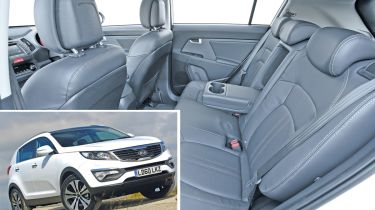 When is leather not real leather? When it comes on a high-spec Kia. That's what disappointed Sportage owners have found, after the company altered the spec list on its website.
Dr Chris Castelli from Swindon in Wiltshire got in touch with Auto Express to complain. "About a year ago, I bought a Sportage KX-3 with full leather," he said. "I'm a member of an owners' forum, and a little while ago someone on there noticed that an asterisk had been added to the online spec details.
"This asterisk was linked to a footnote that said: 'Some parts of the leather upholstery contain faux leather.'"
A call to customer services confirmed that the disclaimer applied to cars built and sold before it was added. "We all feel like we've been misled," said Chris. "The original brochure described 'luxurious full leather', but when you actually ask Kia about this, it turns out there's actually very little leather used. It's mainly plastic or vinyl."
We asked Kia if it agreed it had misled customers and whether it would be offering unhappy owners compensation.
A spokeswoman told us the phrase 'full leather' was intended to differentiate it from the part-leather upholstery (which combines leather and cloth) used on lower-spec models. And that the use of faux leather was common among manufacturers.
She added: "We do recognise that our use of the term 'full leather upholstery' may be misconstrued," – so this phrase will no longer be used. "No deliberate attempt was made to mislead customers," she said, but no compensation would be offered to them.
The AA's legal advice team told us: "It's a form of misrepresentation, but it's not the sort of thing you'd want to take to court. It would be a lot of aggravation, time and stress over a small issue. Any compensation is likely to be very small.
"Kia ought to make some kind of gesture, though, as customers will feel deceived."
Chris's case: At a glance
The problem Chris found out the 'luxurious full leather' upholstery on his high-spec Sportage actually included a lot of faux leather, leaving him feeling cheated.
Kia's response The company told us it hadn't intended to mislead, but could see how its spec could have been misconstrued. But it refused to offer compensation.
Legal advice The AA's legal team said this was misrepresentation, but advised against customers taking action through the courts. "It would be a lot of aggravation over a small issue," a spokeswoman said.
Our verdict Customers have a right to know what they're buying. Kia has a great reputation for value and service. We're disappointed it isn't doing something to compensate what the AA says is misrepresentation.
Do you have a motoring problem that needs investigating? We're here to help… E-mail mail@autoexpress.co.uk or Tweet us @AutoExpress.