"You can't afford not to invest in a Mazda MX-5"
Mazda has perfected the MX-5 in such a way that not even Ferrari could do better, says Mike Rutherford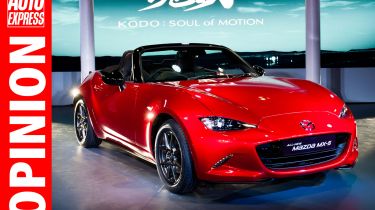 I've never been much good at reading the small print in car launch invitations. In 1989, I thought Mazda was inviting me to drive a then unknown car called Em-Ex-Five (or something similar) on one of those remote, exotic islands in the Pacific Ocean. 
Turned out that we only touched down in my idea of paradise for an hour to refuel the plane, whose final destination was Japan... where our MkI MX-5 cars patiently sat. In those days, you see, London to Tokyo just wasn't doable on one tank of aviation fuel. Thus the stop at the pumps on the Pacific landing strip. 
Wind forward 25 years, almost to the day, and it seemed fitting that I – an MX-5 veteran and fan – was invited to the reveal of the all-new version. 
• New Mazda MX-5 revealed: all you need to know
Sadly, there are very few affordable models in showrooms that are genuinely unique. But the little (yet large enough) roadster has been exactly that for much of the past 25 years, and probably will be for the next 25. Sure, the likes of MG and Fiat bravely took on – and were comprehensively beaten by – the MX-5 in recent decades. And bruised and battered Fiat will be having another pop at Mazda, but this time with a little bit of help... from Mazda itself. 
But with respect to the Italian firm, would you go for a Fiat-built car or one from Mazda, which has pretty much cornered the market for a mass-produced roadster? The sales figures speak for themselves. Well over 900,000 MkI-MkIII Mx-5s have been sold so far. Late next year that figure is likely to reach the one million mark. And around this time the MkIV becomes a showroom reality. Could this be the end of the MX-5 at sub-£20,000? Possibly not. Mazda warns it'll raise the retail price. But even if it imposes a hike of eight per cent (high by car inflation standards), it would still be £19,975 – which puts it in boring family hatch territory. 
If you're a petrolhead with circa £25k burning a hole in your pocket, you can't afford not to invest in this car. It's equivalent to money in the bank, only a million times more fun. Honestly, if the likes of Ferrari and Lamborghini did the unthinkable and designed a downmarket (for them) two-seat rag top, they could not do a better job than Mazda's done with the sharper looking, more aggressively styled MkIV MX-5. It's that good.
Do you think Mazda has perfected the roadster and cornered the market? Let us know in the comments below, on Twitter or on Facebook.