Mercedes car configurator: the £54k Mercedes-AMG A 45
It's already an expensive car as it is, coming in at a smidge under £40,000, but adding a wealth of driver aids, performance packs and a rather tasty looking grey paint finish means that you can have a hot hatch that will drain your wallet faster than the A 45's 4.2-second 0-62mph time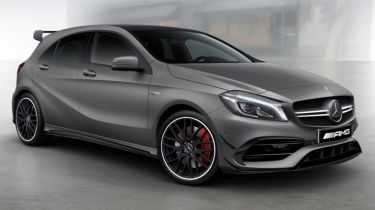 Entry-level model: Mercedes-AMG A 45 - £39,995The car we built: Mercedes-AMG A 45 - £54,420
Key options:• designo Magno Mountain Grey - £1,795• AMG Aerodynamics package - £1,530• AMG Night package - £1,595
Heart-stopping performance can easily be coupled with a heart-stopping price tag if you go berserk on the Mercedes-AMG A 45.
It's already an expensive car as it is, coming in at a smidge under £40,000, but adding a wealth of driver aids, performance packs and a rather tasty looking grey paint finish means that you can have a hot hatch that will drain your wallet faster than the A 45's 4.2-second 0-62mph time. So along with currently having the title of the fastest hot hatch on sale, the A45 can be made one of the most expensive, too.
Our crazy car configurator builds:
• £29k Nissan Juke • £38k MINI Clubman • £39k Vauxhall Cascada • £42k BMW 3 Series 3cyl • £47k Volvo V40 Cross Country • £53k Volkswagen Passat Estate • £54k Mercedes-AMG A 45 • £71k Range Rover Evoque • £100k Audi Q7 • £130k Porsche 911 Carrera S
We built a £54k A 45 AMG using Mercedes' UK configurator – do you think you could do better? Have a go yourself right here!