MINI Convertible - best convertibles
Pound for pound, the MINI Convertible is one of the best drop-tops on the market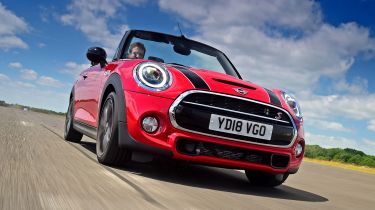 The MINI Convertible has grown up a lot since earlier generations - it's less cute and cuddly than before, and a bit more focused too. It retains MINI's trademark 'go-kart' handling, and the addition of wind-in-the-hair thrills just improves this further.
The roof folds quickly and neatly into the rear of the car, but it does impact boot space and rear legroom quite significantly - and the MINI didn't have a lot of this to sacrifice. Treat it as a two-seater with occasional luggage room and the MINI Convertible could be perfect for you.
It has pedigree too. The MINI Convertible won our coveted Convertible of the Year prize in 2016, and claimed it again in 2018 and 2019. The new MINI Yours Customised service allows buyers to add another level of personalisation, with 3D-printed panels both inside and out, while bespoke puddle lights are offered too.
Best convertible cars 2018