Skoda Fabia - best superminis
You can save some cash by going for the Skoda Fabia over the VW Polo, but you won't lose much else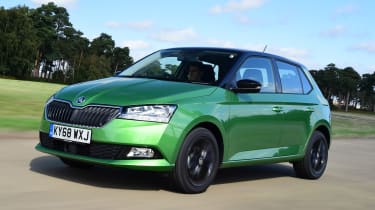 Prices: £12,260-£17,185Engines: 1.0-litre petrol (74, 94, 108bhp)Trims: S, SE, Colour Edition, SE L, Monte CarloEconomy: 45.6-51.4mpgCO2: 106-111g/km0-62mph: 10.8-16.6 seconds
A bastion of no-frills supermini motoring, the Skoda Fabia is spacious, comfortable and still offers great value for money, even though it's not as cheap as it once was.
A refresh in 2018 saw the engine line-up pared back to comprise merely 1.0-litre petrol units, but this is no bad thing. While entry-level non-turbo MPI versions are just about adequate, we prefer the turbocharged 1.0-litre TSI, offered with 94bhp or 108bhp.
It's a torquey unit that's much more flexible in everyday driving, and economy and emissions are good. Our preferred 94bhp version in SE trim with a five-speed manual gearbox claims figures of 47.1-51.4mpg and 106g/km of CO2 respectively.
It may not be the most thrilling car on this list – and outright quality isn't as good as in the VW Polo – but few superminis are more practical. The boot measures in at 330 litres (1,150 litres with the rear seats folded) and features handy luggage hooks as standard. There's a decent amount of space in the rear as well; two six-footers will easily fit.
Buyers also have the option of the Fabia Estate – a unique proposition in this class. The load-lugger increases boot capacity to 530 litres and tops out at 1,395 litres with the rear bench folded. It's a great choice if you need lots of space in a smaller package.
Best superminis to buy now