Top ten best cars for reliability
Driver Power asked UK new car buyers about their cars' reliability. These are the top ten highest rated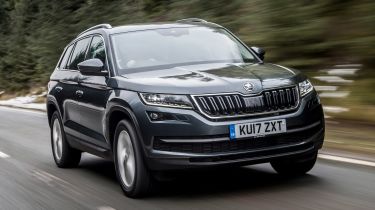 Covering: Overall quality, reliability
Winner: Skoda Kodiaq
Score: 97.19%
​​The sight of a car broken down by the side of the road seems to be a far less common occurrence these days than it used to be. But while cars may be more reliable than ever before, that certainly doesn't mean new models are immune to faults. Lots of drivers still suffer issues with their modern cars, so this category reveals which models are least likely to give you trouble.
In the 2021 Driver Power new-car survey, the Skoda Kodiaq topped this all-important category, taking home first-place scores for both sub-categories – overall quality and reliability.
Owners told us that as well as being well built, inside and out, the Kodiaq has an overarching sense of high quality, feeling solid, and inspiring confidence that it will stand the test of time.
This, you tell us, is especially impressive in this price range and makes the Skoda seem particularly good value for money. Interestingly, many of the models that did well in this category are affordably priced family cars rather than models from expensive, premium brands.
Your view
"The Kodiaq is probably the best-built car I have ever been fortunate enough to own. It feels very robust, and has excellent fit and finish given the money I paid for it."
Top ten reliability
Model

Class

Overall Position

Overall Score

Category Score

Skoda Kodiaq

Large SUV

6

90.92%

97.19%

Hyundai Kona

Small SUV

1

92.35%

95.75%

Mazda CX-5

Mid-Size SUV

3

91.65%

95.64%

Lexus NX

Premium Mid-Size SUV

13

90.15%

95.04%

Volkswagen T-Roc

Mid-Size SUV

24

88.89%

95.02%

Skoda Karoq

Mid-Size SUV

5

91.00%

94.97%

Peugeot 2008

Small SUV

12

90.23%

94.53%

Kia Rio

Supermini

2

92.16%

94.48%

Kia Ceed

Compact Family Car

17

89.67%

94.35%

Volvo XC40

Premium Small SUV

8

90.60%

94.20%