Toyota Yaris - best superminis
The Toyota Yaris is a popular supermini choice thanks to its hybrid powertrain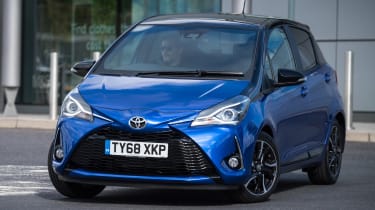 Prices: £12,995-£20,100Engines: 1.0, 1.5-litre petrol; 1.5-litre petrol hybridTrims: Active, Icon, Icon Tech, Y20, GR Sport, ExcelEconomy: 43.4-58.8mpgCO2: 84-118g/km0-62mph: 11.0-15.3 seconds
Toyota has set the Yaris apart from its rivals by offering the only proper hybrid powertrain in the class. Most superminis are more practical, more fun to drive and better equipped, but none provides the option of true petrol-electric power. This electrified Yaris offers the best emissions and fuel economy in the range – as low as 84g/km of CO2 and up to 58.8mpg.
Other engines in the line-up are also relatively economical despite their lack of electrification; there's a 1.0 petrol, but no diesel option. No Yaris is especially fun to drive and those fitted with CVT gearboxes can get a bit thrashy out of town, but the car is a solidly built, reliable choice that comes with an attractive five-year warranty.
Interior space is a key strength. There's enough room in the back for three people to sit comfortably with loads of head and legroom. The latter is hampered slightly in hybrids because their batteries are mounted in the floor, but boot capacity is unaffected.
Best superminis to buy now