Zenvo TS1 GT - world's fastest road cars
Danish supercar maker has hit the ground running with its bespoke hypercars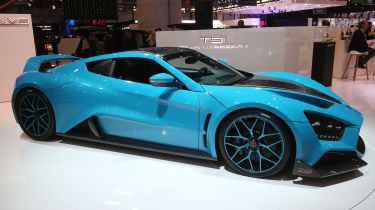 Top speed: 233mphPrice: £1million
The phrase 'Danish supercar' might bring to mind one of the latest Lego model kits, but Denmark's Zenvo is a genuine car manufacturer based in the country.
It made its mark with the ST1, but has since followed it up with the TSR-S and TS1 GT models. These two look largely identical to the ST1, but have been improved in every area. The TSR-S features an advanced active wing that boosts downforce when cornering, but it's the TS1 GT that is the speed machine, with an estimated top speed of 233mph.
It achieves this courtesy of Zenvo's own 5.8-litre twin-supercharged V8 that makes 1,104bhp, while carbon fibre construction and plenty of lightweight materials keep the kerbweight low.
Top 10 fastest road cars 2019
6. Zenvo TS1 GT
7. Noble M600
9. Ford GT
10. McLaren 720S