Ford Mustang Mach 1, Diamonds Are Forever (1971)
BOND FACT: The Mustang chase was filmed on Las Vegas' famous Fremont Street, which was still open to the public.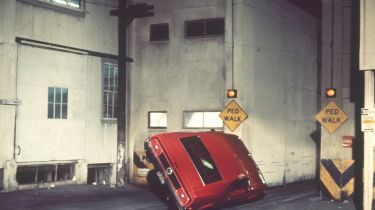 Bond girls have always been part and parcel of the franchise, and on occasion 007 has needed to borrow their wheels to make a hasty escape.
In Diamonds Are Forever, Sean Connery returned as 007 on the trail of a diamond smuggling operation, and his adventures lead him to the Nevada desert and bright lights of Las Vegas.
After escaping from a top-secret research lab in a moon buggy, Bond teams up with diamond smuggler Tiffany Case (Jill St John) and drives her rented 1971 Mustang Mach 1 back to Las Vegas. It's not long before they're pulled over by the cops, who have been put on alert for the car. But 007 quickly takes off, and a hot pursuit ensues. After giving Nevada's finest the runaround in a car park, Bond needs to shake one more cop before he's free.
The final stunt has gone down in folklore as one of the worst continuity errors ever seen on the silver screen. 007 drives into a narrow alleyway, and has to put the Mustang on two wheels to get through. He manages this with ease, but while the car balances on its right tyres when it starts the stunt, it's miraculously swapped to its left tyres at the end of the alley.
• Aston Martin DB5• Lotus Esprit• Sunbeam Alpine• Aston Martin DBS• BMW Z8• Aston Martin Vanquish• Citroen 2CV• What the villains drove