Bugatti Chiron - world's fastest road cars
It's been improved over the Veyron in every area, although the Chiron's top speed has yet to be verified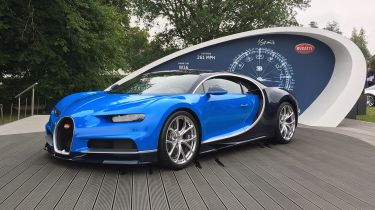 Top speed: 261mph (electronically limited)Price: £2.1million
The Bugatti Veyron set new records when it arrived. It was the first production car to exceed 250mph, while the Super Sport version raised the maximum to 267.9mph. But with more power and an improved driving experience, the Bugatti Chiron should make mincemeat of its ancestor's figures.
Why do we say should? Because the Chiron has yet to officially undertake a top speed run. Bugatti quotes a top speed of 261mph, but that is electronically limited for safety, largely because the tyres aren't quite at the peak of development to cope with prolonged running at higher speeds.
Still, 261mph (or 420kmh in metric) is fast enough for the Chiron to be the third fastest hypercar on sale today, and it has a number of other figures to justify its £2.1million price. 0-62mph takes 2.4 seconds, while 0–124 mph comes up in 6.5 seconds, and it takes just over half a minute to reach 250 mph. Bugatti managed to break the 300mph barrier in 2019 in a modified prototype Chiron at the Ehra-Lessien test track in Germany with a timed run of 304.774mph.
Top 10 fastest road cars 2019
3. Bugatti Chiron
6. Zenvo TS1 GT
7. Noble M600
9. Ford GT
10. McLaren 720S