Fiat 500 vs rivals
Fiat's reborn 500 is the most stylish city car of the moment. How does it compare to its rivals in the UK?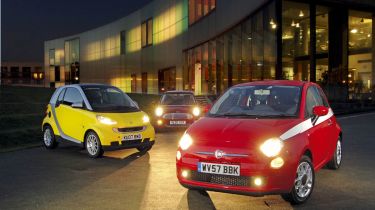 SMALL cars are Fiat's business. The firm builds the Bravo family hatch and even sells the Multipla compact MPV, but it takes its identity from the cramped streets of its Turin home.
The place inspired Dante Giacosa to create the Fiat 500 in 1957. It was a huge success, with 3.9 million sold over its 18-year life. Yet the original was conceived as a car to get the masses moving, rather than an urban fashion accessory. In that, it differs from the all-new model. No car has been as hyped since the MINI arrived nearly seven years ago.
Designed in-house by Fiat Centro Stile, the 500 comes with three engine options and three trims, as well as huge scope for personalisation. Prices start at only £7,900.
That means it undercuts its nearest rival by a large margin. The entry-level MINI costs £11,625, and is notoriously poorly equipped. But any owner will tell you it's cheap to run and great to live with.
The Smart ForTwo doesn't stir such passion, yet it's still a success story. Sales were up 35 per cent in 2007 – largely due to the arrival of the second-generation model.
So the Fiat is in for a rough ride as it meets these two rivals in its first right-hand-drive UK test. Let's see just how good the cute 500 really is.
Verdict
It's hard to stay objective about the new Fiat 500. Never before has the British public been offered a car with so much pizzazz for such little outlay. It makes sense on many levels: it's well equipped, big enough inside, great in town, beautifully detailed, cheap to run and highly desirable. So why doesn't it win? Well, the driving experience is flawed and the Fiat lacks the MINI's depth of quality. The 1.2 engine is also rather coarse. The 500 is a better option than the clever, yet compromised Smart. Even though it's been updated, the fundamental flaws haven't been addressed. The MINI is pricey, but as Henry Royce famously said: "Quality remains long after the price is forgotten." The One is the best finished and engineered model, plus the most fun to drive. While it didn't win, the 500 is still a great car that has the capacity to make you smile. Don't underestimate its appeal.