Volvo vs Volvo
Volvo C30 2.0 R Design Sport vs Volvo 480 ES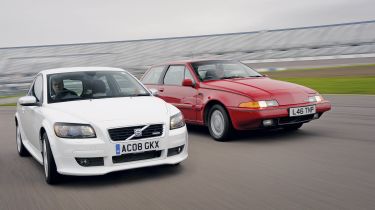 Volvo's ability to shock isn't what it used to be. Back in the mid-Eighties, the Swedish giant was still better known for its vast estates and sensible approach to design and engineering. Then, in 1989, came a bolt from the blue: the remarkable 480 ES – a four-seater coupé with dramatic design and a state-of-the-art electronic system.
Since the arrival of the 480 ES, Volvo has made some equally bold design decisions – including the C30 coupé you see here. The three-door has already been hailed a style pioneer and praised for its groundbreaking cabin. But can it take over the mantle from its Eighties predecessor?
Although it's now considered a design classic, the 480 ES didn't exactly have the easiest of rides in its early years. The car was originally destined for the US market, but plans changed and Volvo concentrated on Europe instead, drastically reducing the predicted sales volumes. Then came a host of electrical problems, caused by the revolutionary, but troublesome, on-board computer system.
Today, 20 years after it first hit British roads, the car still turns heads. Look closely at our example, owned by 480 devotee Colin Seymour from Bury St Edmunds, Suffolk, and it's not hard to see why. The profile is as eye-catching as it was in 1989, while the distinctive all-glass tailgate and the pop-up lights belie its workmanlike underpinnings.
In terms of dynamics, the 480 ES feels its age – especially when compared to the sharp-handling C30. Despite its Lotus-tuned suspension system, the classic doesn't quite have the ability to match its sporty looks.
So can the C30 be described as a spiritual successor to the 480 ES? Well, there's no doubt it's a sharp piece of design. However, you can't help but feel the 480 ES was a braver bit of work – especially when you consider Volvo's reputation at the time. Will the C30 live on as one of the firm's landmark cars in another 20 years? Don't bet on it.
Facts and figures
Volvo C30 2.0 R Design Sport vs Volvo 480 ES
Price new: £16,883 / £10,850 (1983)Engine: 1,999cc 4cyl / 1,721ccTransmission: Five-speed manual, front-wheel drive / Five-speed manual, front-wheel drivePower: 143bhp / 109bhpLength/width/height: 4,252/1,782 1,447mm / 4,257/1,709/1,316mm