Ibiza vs Ibiza
SEAT Ibiza MkI vs SEAT Ibiza 1.2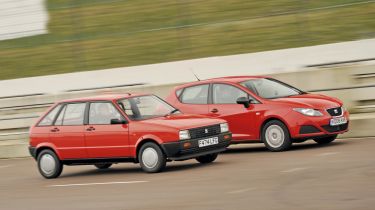 It's easy to forget that SEAT – now firmly established as Volkswagen's sporty brand – once earned a crust by gluing its badges on to the front of old Fiats. Long before the Spanish company was snapped up by the Germans, it worked closely with the Italian marque, knocking out cut-price runabouts such as the Panda-based Marbella.
Everything changed, however, with the arrival of the Ibiza in 1984, which heralded the start of a design revolution at SEAT.
Looking at the first-generation Ibiza now, it's easy to see why SEAT bosses had lofty ambitions for it. Designed by Giorgetto Giugiaro, the man behind the original Lotus Esprit, the Ibiza still cuts a dash today, with crisp lines and neat proportions. Yet what strikes you most is the sheer size of the original model. Comfortably larger than a Ford Fiesta or Austin Metro of the same era, the Ibiza was one of the first cars to prove that when it comes to superminis, bigger is better.
The new version, by comparison, looks space age. With unconventional lines and bold curves, it's one of the most striking superminis on the market. But, as with the original, it was designed by a man better known for penning supercars. The current version is the work of Luc Donckerwolke – creator of the Lamborghini Gallardo.
Then, as now, the Ibiza was decent value for money. It offered the kind of kit that other supermini makers didn't even bother putting on the options list.
But the biggest draw of all was under the bonnet. In an incredible marketing coup, SEAT struck a deal with Porsche to develop the Ibiza's powerplants. As a result, the engine covers on all UK models proudly wore the words "System Porsche".
The first-generation Ibiza seems a little plain and boxy to be dubbed a legend, but without it, SEAT may not have become the giant it is today. Two years after the Ibiza hit the UK, Volkswagen bought a huge share in the company and went on to acquire it outright in 1990.
Facts and figures
SEAT Ibiza MkI vs SEAT Ibiza 1.2
Price new: £4,499 (1988) / £8,416 Engine: 903cc 4cyl / 1,198cc 4cyl Transmission: Four-speed manual, front-wheel drive / Five-speed manual, front-wheel drive Power: 44bhp / 70bhp Length/width/height: 3,638/1,608/1,394mm / 4,052/1,693/1,445mm