500 vs 500
Fiat 500L vs Fiat 500 1.3 Multijet Lounge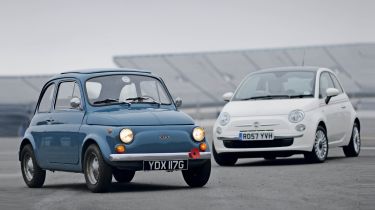 A brilliant reworking of a design legend, or a shameful plundering of a classic? If you think the new Fiat 500 is the latter, remember MINI and VW revisited the past first. Good design is timeless.
It took the firm a while to cotton on to the concept of retro styling, though. As the roaring success of the 500 has proven, the world never fell out of love with small Fiats. It's just that the company fell out of love with making them. Comparing old and new brings a smile to your face. The original 500 looks small enough to pick up and carry. But even though the cars' engineering, layout and size are unrelated, there's a common bond between them. The design DNA with which Dante Giacosa blessed the 1957 original has been carried over to the newcomer. That's why owners of the old model – such as Katy Corrie, of Northampton, who loaned us her prized 500L for this shoot – have taken to the latest car with such enthusiasm.
The nose wears the original's smirk, while the pert rear and near-symmetrical window shape have been faithfully recreated.
But elsewhere, it's a different story. While Fiat has been praised for reviving the look and feel of the original 500's cabin, when the two cars are side by side you will struggle to see where it was coming from. Even if you took the cockpit back to the bare metal, it wouldn't be as spartan as an old 500. Plus, the 18bhp, 500cc rear-mounted engine has made way for a choice of petrol and diesel units, located at the front.
So has Fiat nailed it with the latest 500? Oh yes! While the layout and engineering are different, the car captures the original's carefree spirit perfectly.
Facts and figures
Fiat 500L vs Fiat 500 1.3 Multijet Lounge
Price new (1972): £556 / £10,670
Engine: 499cc / 1,288cc turbodiesel
Transmission: Four-speed manual, rear-wheel-drive / Five-speed manual, front-wheel drive
Power: 18bhp / 69bhp
Length/width/height: 2,970/1,320/1,335mm / 3,456/1,627/1,488mm
Details
WHY: Price new: £10,670Engine: 1,288cc turbodiesel Transmission: Five-speed manual, front-wheel drivePower: 69bhpLength/width/height: 3,456/1,627/1,488mm