6. Ferrari 250 GT California - Ferris Bueller's Day Off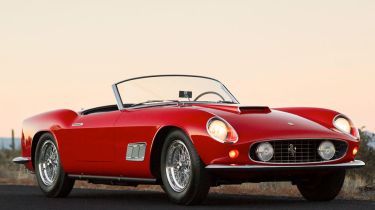 For Ferris Bueller, the 250 GT California was the epitome of cool. For many of us, it still is – its gorgeous lines, beautifully crafted engine and intense Italian charisma are enough to charm the pants off almost any petrolhead.
The 250 GT remains one of the world's most desirable cars and one sold for more than $15m in February 2015. The 3.0-litre V12 produced around 275bhp when new and only 55 were produced in total.
Ferrari's 250 line of cars is one of their most successful ranges in the famous brand's early history. Various cars with 250 badges were built between 1953 and 1964, and included modes like the 250 GT Berlinetta 'Tour de France' (a name that has since been revived in the shape of the F12 tdf) and the 250 GT Lusso.
Other than the California, the most famous car to hold that iconic namesake is the 250 GTO. The GTO (short for "Gran Turismo Omologato") was built as a homologation model to let Ferrari compete in a specific racing series, but the high performance derivative quickly became a classic and one of Ferrari's most lusted-after cars. In 2013, the 250 GTO blew the California out of the water in terms of its record auction price - one was sold for more than $38m.
Top 10 greatest movie cars of all time