Ford GT - world's fastest road cars
Second generation GT is designed with racing in mind, so a mega top speed comes naturally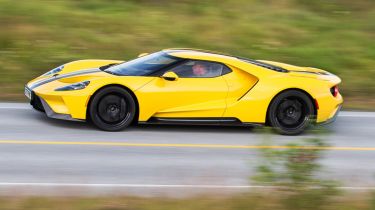 Top speed: 216mphPrice: £320,000
Like the classic Ford GT40, the current Ford GT is designed to go racing. It's already won its class at the Le Mans 24 Hours against rivals such as Ferrari and Porsche, and the GT road car is faster than anything these two European makers currently produce.
Those dramatic lines are designed to cleave through the air, allowing the relatively modest 3.5-litre twin-turbo V6, which makes 647bhp, to push the GT on to a top speed of 216mph.
Carbon fibre construction helps keep the weight down, while advanced race-style suspension means the GT is a focused road car that feels more visceral than many of its supercar rivals.
Top 10 fastest road cars 2019
6. Zenvo TS1 GT
7. Noble M600
9. Ford GT
10. McLaren 720S