Jeep Cherokee 2014 review
Our verdict as five-seat Jeep Cherokee SUV with a nine-speed automatic gearbox hits Britain
At long last, Jeep has come up with a crossover that's a credible mainstream choice. The new Cherokee trails the class leaders because of its poor handling, lack of reassuring steering weight and relatively high noise levels, but it remains an encouraging first step in the Jeep quest to raise sales from 789,000 a year today to 1.9 million cars by 2018.
Since the 2014 Jeep Cherokee made its debut at the 2013 New York Motor Show, we've got used to its quirky styling. But it's yet to prove itself.
Our first spin in a right-hand-drive Cherokee (Issue 1,323) didn't reveal any nasty surprises – Jeep has logically laid out the interior and the driving position widely adjustable.
However, the flat seat is short on lateral support and combines with the soft ride to ensure you're really holding on in fast corners. Still, the cabin design and finish are most accomplished feat of the Jeep.
Some details on the Cherokee look cheap and play shamelessly on the Jeep heritage, like the 'Since 1941' heritage steering wheel logo, plasticky gear selector and door handles, but in its own chunky way, it's pleasant to operate.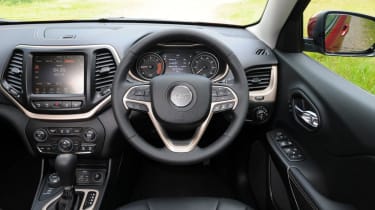 There's also decent space in the Cherokee, but if you slide the rear seats as far back as they'll go, that shrinks the 571-litre boot to 412 litres.
There's also off-road-focused V6 Trailhawk model of Jeep Cherokee, but most UK buyers will go for road-biased cars like the Limited. It's packed full of luxury kit like an 8.4-inch touchscreen, 
a powered tailgate and leather seats.
The 2.0-litre diesel which powers the Jeep Cherokee Limited is available with 138bhp or 168bhp, and both offer the same 350Nm torque output. We drove the more powerful model, which was mated to a nine-speed automatc gearbox and it feels more intuitive and predictable than the nine-speeder Land Rover slots into the Range Rover Evoque - sadly, however, the Jeep does without shift paddles, which is a glaring omission.
Even in fuel-saving front-wheel-drive mode, traction is strong, but we'd like more steering weight at speed to live 
up to the Cherokee's 'road-biased' promise.
Still, the ride delivers; the suspension is soft enough to take the edge off bumps and gently cushions undulations in the road.