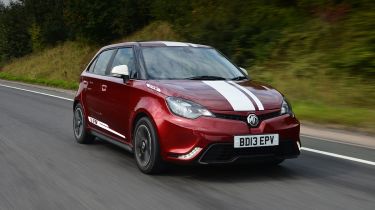 In its sixties heyday, MG was famed for producing fun cars at affordable prices. And that's exactly what the reborn company is trying to rekindle with the smart-looking and great-value MG3 hatch.
The MG3 will be a big factor in the success of the relaunched MG brand in the UK. The MG6, a larger family car, has seen fairly slow sales since it was introduced, so the MG3 is a make-or-break car for the resurrected British brand that's now owned by Chinese company SAIC.
The smart styling, spacious interior and customisation options (similar to the Fiat 500 and MINI hatch) for new buyers make a great first impression. However it's the low starting price that will attract the most new customers: the entry-level MG3 Time model costs less than £8,500, 3 Form trim is priced at around £9,000 (3 Form Sport is a little higher) and even the range-topping 3 Style costs less than £10,000. That means potential used car buyers might be tempted - it offers the advantages of a new car with the price of a second-hand model.