Nissan Micra 1.0 Visia – cheapest cars to insure
A new modern face may be on the new Micra, but the same low running costs have remained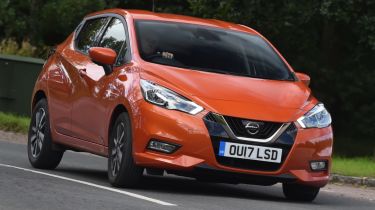 Unlike the Renault Clio, which is also a supermini from the Renault-Nissan Alliance, the Micra can sit as low as group 1 insurance. Spec the small Japanese car in Visia or Acenta trim with the 1.0-litre petrol engine and you will be laughing all the way to the bank with your insurance premium savings.
The good news doesn't end there either. The makeover in 2017 saw the Micra go from Grannymobile to a genuinely sharp and sporty-looking supermini. Underneath the body you will find architecture which has been carried over from the old model, but importantly, there is up-to-date electronic tech shipped in from other models such as the Qashqai.
The Micra is practical too, with no three-door option and automatic emergency braking, Bluetooth and a lane departure warning system available across the range. The entire range also gets 'Active Trace Control' and 'Active Ride', with the latter using the brakes over bumps to ensure the tyres stay in contact with the road as much as possible. And the former helps in cornering by applying the brakes to the inside wheel.
Cheapest cars to insure 2019
Click the tabs on the top left of this page or the links below for full details on the cheapest cars to insure in the UK at the moment.