BMW M4 Competition Pack - best rear-wheel-drive cars
A mid-life update revitalised BMW's super coupe to put it at the front of the pack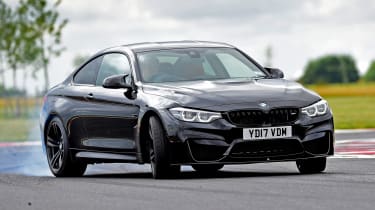 BMW's M Division has a long history of building thrilling rear-drive performance cars. However, the last M4 was a little bit wide of the mark. It was good, but outstanding, while features like the artificial engine note piped into the cabin were too gimmicky for a supposed performance machine.
However, the recent range update saw a new version of the M4 Coupe appear, the CS, while the standard car can be upgraded with the Competition Pack. These models took some of the lessons learned from the limited-run M4 GTS and have put the M4 Coupe back in the running for the title of best performance coupe.
The updated M4 Competition Pack is more progressive than before, making the car easier to drive quickly, but it still has that focused edge that gives it an edge over rivals like the Mercedes-AMG C63 and Audi RS5 Coupe. We'd just steer clear of the M4 Convertible - the extra weight of the folding roof makes it more of a cruiser than a focused sporting machine.