Caterham Seven - best performance cars
Fancy a classic British sports car experience from a brand new car? Look no further than the Caterham Seven.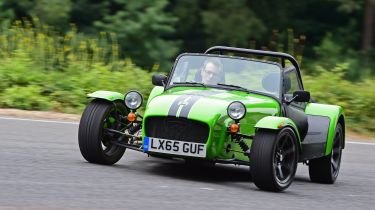 The Caterham Seven is a riot to drive, in whatever spec you buy it in – largely down to its incredible handling and lightweight body. Even after 60 years of production, the Seven continues to offer a unique driving experience which provides the kind of connected sensations only the best track cars can.
The Seven's lineage can be traced all the way back to 1957. It was originally designed by Colin Chapman, and the current models look remarkably similar to those first penned by Mr Chapman all those years ago.
While the feedback and feel of the car is excellent, the low slung body and roofless design will mean you'll feel vulnerable at times. For motorists looking to experience the thrill of owning a Seven, without having to tame a vast amount of horsepower, the entry-level Seven 270 delivers 135bhp, with a 0-62mph time of 5.0 seconds.
At the other end of the scale, there is the 620R, which hits 60mph from a standstill in just 2.79 seconds, and packs a supercharged 2.0-litre Ford engine.
Top 10 best performance cars 2021