Skyline vs GT-R
Nissan Skyline R32 vs Nissan GT-R Premium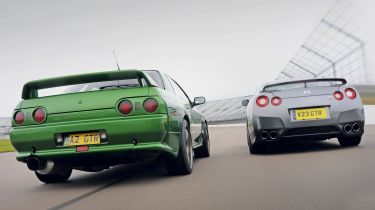 Ten years ago, the idea of Nissan producing a model good enough to beat the supercar elite at its own game would have been laughable. And yet the firm's amazing GT-R coupé is now showing the rest how to do it.
It's hardly been an overnight sensation, though. While the new GT-R is the first model Nissan has built with the European market in mind, bosses have been planning supercar domination for nearly 40 years.
In terms of British relevance, the story started in 1989, when tuner Janspeed, based in Salisbury, Wilts, imported a handful of Skyline R32s from Japan. They were bought in for racing, but many made it on to the road – and created a small but loyal fanbase.
The car in our picture was one of that first batch, and has been modified to give 450bhp, instead of the original 280bhp, and has a host of other performance tweaks.
What strikes you first is how much sleeker it is than the new machine. There's an economy of scale to its lines that the pumped-up 2008 model can't match.
Equally impressive are the clever bits you can't see. When the Skyline hit the UK at the end of the Eighties, powered windows were still a novelty for most buyers. The Nissan featured electronic four-wheel drive and four-wheel steering, and looked truly advanced. It made every other supercar appear dated!
Nearly 20 years on, the new GT-R remains a test bed for Nissan's hi-tech thinking. Most of its baffling array of systems are designed to make it accelerate, brake and steer quicker than anything else on the road. Yet while the latest GT-R is the fastest car on the block, without the R32, it wouldn't be here at all.
Facts and figures
Nissan Skyline R32 vs Nissan GT-R Premium
Price new: £38,000 (1989) / £56,100Engine: 2,569cc / 3,799ccTransmission: Five-speed manual, four-wheel drive / Six-speed semi-auto, four-wheel drivePower: 280bhp / 480bhpLength/width/height: 4,545/1,755/1,341mm / 4,655/1,895/1,370mm