Ferrari 348: Buying guide and review (1989-1994)
A full buyer's guide for the Ferrari 348 (1989-1994) including specs, common problems and model history...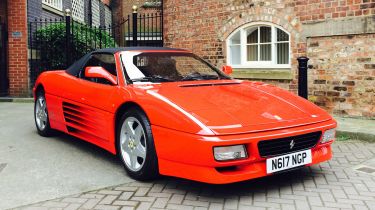 Following on from the Ferrari 308 and 328 was never going to be an easy task, but when the 348 was launched at the 1989 Frankfurt Auto Show it's fair to say that Ferrari appeared to have hit the spot once more. Sure those side strakes were still loved and loathed in equal measure, just as they'd been on the Testarossa, but the 348 was sleek and distinctive, even if some felt that it already looked dated. 
Then came the reviews and it all went downhill from there. Many journalists who drove the 348 were distinctly underwhelmed and it soon became clear that those early cars weren't as great to drive as they should have been. But Ferrari wasn't slow to act and it soon introduced a raft of improvements – and it would carry on developing the car throughout its life. 
So while the 348 is one of those Ferraris that wasn't highly regarded in period, as a semi-classic it's now much more sought after. After all, few people buy a 348 now to push it to its limits – even when it was new, few owners would have driven their cars at more than seven-tenths. So don't be fooled by all those reviews from the late eighties; try a 348 for yourself and make up your own mind. 
Which Ferrari 348 to buy? 
When buying a 348 it's essential that you buy one which has had all of the factory-issued updates; Ferrari was constantly bringing out tweaks and upgrades to improve things. That's why it's also worth going for the newest car you can find; later cars are significantly better (and better-built) than the earlier ones – especially if the latter hasn't had a full complement of upgrades. 
A lot of 348s were sold in the UK, but many have now been exported to Australia, so there aren't many to choose from. The tb and Spider are the most popular, but any good ts will always find a buyer too. All you have to do is colour-code the roof and you've got the best of both worlds; a car that looks like a coupé, but you can remove the roof if you want.
While there weren't many special editions, there was one intriguing model reserved purely for the American market – the 348 Serie Speciale. While it's not that widely known about, this heavily revised car actually fixed many of the dynamic criticisms that were thrown at the 348, with some F40-inspired Kevlar seats to help spice things up.  
For something a little more unique, then there is the extremely rare (and brilliantly named) 348tb Elaborazione, built by Zagato. Extremely expensive to buy when new (around two and a half times the price of the standard car) just ten of these cars were produced, and come up for sale very occasionally today. 
Finally, be meticulous when checking a 348's service history before buying – and don't even consider a car that hasn't got a full history proving that it's been maintained by a well-respected marque specialist. Any car that's not adhered to the factory service schedule and been used regularly is just asking for trouble.
Partnership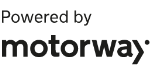 Need to sell your car?
Find your best offer from over 5,000+ dealers. It's that easy.
On that note don't get too hung up on buying a car that's done hardly any miles as you're more likely to have problems with one of these than something which has been used regularly. 
Ferrari 348 performance and specs
Model
3405cc, V8
Power
300bhp @ 7200rpm
Torque
239lb ft @ 4200rpm
Top speed
171mph
0-62mph
5.4 seconds
Fuel consumption
18mpg
Gearbox
Five-speed manual
Dimensions and weight
Wheelbase
2450mm
Length
4230mm
Width
1892mm
Height
1168mm
Weight
1390kg
Ferrari 348 common problems 
• Corrosion: the 348 has an all-steel bodyshell and apart from signs of minor rust in the wheelarches and door bottoms, you shouldn't expect any bodywork issues in terms of corrosion or poor panel fit, unless the car has been shunted. 
• Undertrays: the undertrays that smooth airflow underneath the car should be present and undamaged, so check that they are.
• Engines: early 348 V8s could suffer from extensive chain tensioner wear in the lower drive system, along with failure of the inner support bearing for the cam-drive jack shaft. Both designs were updated but if buying an early car it's worth investing in a professional inspection.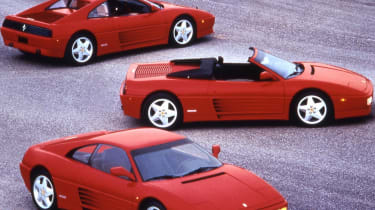 • Later engines: the later 348 engine is very strong and very few cars have clocked up the kind of mileage that requires a rebuild. With most cars having done less than 50,000 miles, the chances of a rebuild being due are minimal, unless the car has been neglected.
• Cam belt: early cars need a fresh cam belt every two years, but for later cars this became every three years or 24,000 miles.
• Transmission: all 348s have a manual gearbox and clutches are weak; check for slipping or gear selection issues. Beware of a noisy gearbox, which suggests that the transfer gears have worn out. Repairs are very expensive.
• Gearbox: as is common with Ferraris of this era, don't expect to be able to get second gear until the gearbox has fully warmed up; there's plenty of torque available to go from first straight to third.
• Clutches: clutches tend to last just 10-15,000 miles. Some cars have a single-plate clutch, but later cars have a multi-plate item which costs twice as much to replace.
• Suspension: the platforms that hold the suspension springs in place can crack, allowing the springs to slide down the dampers.
• Climate control: the 348 features an electronic climate control system which plays up. The ECU at the heart of it is usually the culprit and replacements aren't available. It's the soldered joints that usually cause problems, so repairs are possible, but specialised. 
Ferrari 348 model history 
1989: The 348 is launched at the Frankfurt motor show, in coupé (tb) and Targa (ts) forms. Compared with the outgoing 328 there's an extra 210cc and 30bhp (now 300bhp) from the all-alloy V8.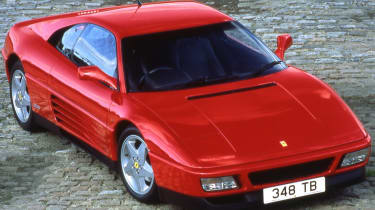 1993: There's now a Spider (full convertible), aimed largely at the US market. The sills are painted black; later in the year the tb and ts get the same treatment when they're renamed GTB and GTS. There's also a new front spoiler, a revised interior and the V8 is boosted to 320bhp.
1994: Production of the GTB and GTS ends, but the Spider continues for a few months longer. Also, the run-out GTC (Competizione) is launched, with just 50 made. Each features revised wheels, suspension and some lightweight composite panels. 
Ferrari 348 owners clubs, forums and websites 
• www.my348.com • www.ferrariownersclub.co.uk• www.fcars.co.uk• www.ferrariownersclub.org• www.clubscuderia.co.uk
Ferrari 348 summary and prices 
In marque lore, the 348 languishes in a netherworld between used car status and classicdom. Purists moan that it lacks the aesthetic purity of the 328 it replaced, while others carp about its lack of dynamic ability compared with the 355 it spawned.
Even company supremo Luca di Montezemolo went on record at the 360 launch, saying 'Ferrari won't be making any more mistakes like the 348'. It's been on a losing streak since it broke cover in '89. With Ferrari 355 prices so strong, the slightly older 348 remains extremely good value to this day.
The very cheapest examples start at £20,000, however these will be in need of significant restoration work, and realistically, £30,000 is your start point for good cars. Spend closer to £40,000, and you'll end up with something significantly healthier, but the very best examples command in excess of £55,000.
Thinking of buying a future classic? Then take a look at these potential future classics...