Honda CR-X VTEC 1989-1992
9th place in our top 10 greatest fast Hondas goes to the Honda CR-X VTEC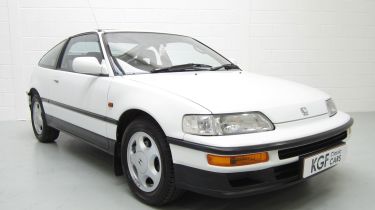 Coupe-like looks and hatchback practicality ensured the Honda CR-X was one of the original stylish, compact three-doors. And in 1989, it was given the performance to match its looks, because this was the first model in the UK to benefit from Honda's novel VTEC variable valve timing technology.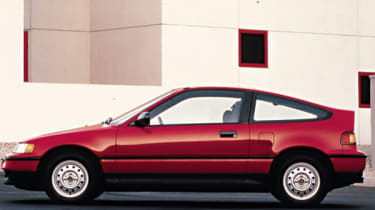 This clever engine had a modest 1.6 litres, but it offered 148bhp and revved to 8,000rpm. That doesn't sound like a lot today, but back then it made the 130bhp Peugeot 205 GTi 1.9 look puny. The long bonnet and cut-off tail gave the CR-X head-turning proportions, and although today the styling looks very eighties, it was way ahead of the curve in terms of design and engineering.
As with all Hondas, it featured race-inspired double-wishbone suspension for agile handling, while VTECs had distinctive 'tele-dial' wheels and a discreet bonnet power bulge. Fast, fun and with an addictively frenetic engine, the CR-X set the template for all future Type Rs. 
Honda CR-X VTEC: key specs
Engine: 1.6-litre 4cylPower: 148bhpTorque: 142NmTransmission: Five-speed manual, front-wheel drive0-62mph: 7.2 secondsTop speed: 138mphOn sale: 1989-1992
The all-time best fast Hondas
1. Honda NSX 1990-20052. Honda Civic Type R 2017-date3. Honda Civic Type R 2001-20054. Honda S2000 1999-20095. Honda Integra Type R 1995-20016. Honda Accord Type R 1998-20027. Honda Civic Type R 1997-20008. Honda Civic Type R 2007-20109. Honda CR-X VTEC 1989-199210. Honda S800 1967-1970
Fast Hondas Special