Honda Civic Type R 2007-2010
8th place in our top 10 best fast Hondas list goes to the 2007 Honda Civic Type R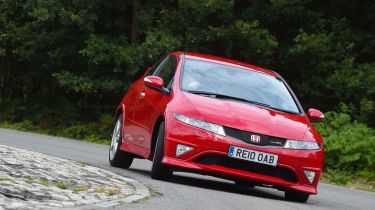 Honda went space-age with its second-generation Civic Type R, codenamed FN2, with a swoopy roofline, angular lights and triangular exhausts. Inside, it was just as futuristic, due to an arcing dash with digital displays. The dash-mounted gearlever of old dropped to the transmission tunnel, so it wasn't as instinctive, but shift quality was still spot-on.
Power remained virtually the same as in the previous-generation Civic Type R, at 197bhp, but the VTEC valve timing kicked in lower down the rev range, helping to make the performance even more accessible. Compared with its predecessor, this car was a bit heavier – but it was even more usable, with improved refinement and more practicality.
Stoke that scorching engine on the right road, and the Type R would come alive – and if that wasn't enough for you, Honda's motorsport partner Mugen tuned the Type R to 237bhp. With less weight, it'd crack 0-62mph in 6.0 seconds, while stiffer springs and dampers plus trick tyres meant it cornered at crazy speeds with real composure.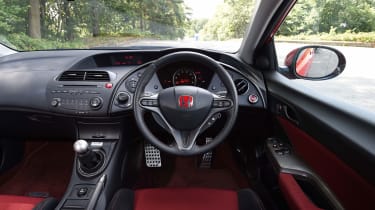 Honda Civic Type R 2007-2010: key specs
Engine: 2.0-litre 4cylPower: 197bhpTorque: 193NmTransmission: Six-speed manual, rear-wheel drive0-62mph: 6.6 secondsTop speed: 146mphOn sale: 2007-2010
The all-time best fast Hondas
1. Honda NSX 1990-20052. Honda Civic Type R 2017-date3. Honda Civic Type R 2001-20054. Honda S2000 1999-20095. Honda Integra Type R 1995-20016. Honda Accord Type R 1998-20027. Honda Civic Type R 1997-20008. Honda Civic Type R 2007-20109. Honda CR-X VTEC 1989-199210. Honda S800 1967-1970
Fast Hondas Special