Honda Civic Type R 1997-2000
The original Civic Type R never came to the UK officially but it still takes 7th in our best fast Hondas list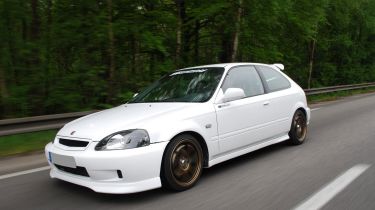 This is the hot Civic genesis – the first family hatchback from Honda to wear the special Type R badge. It also set the philosophy from the start, with plenty of weight-saving features over the standard car. These included a hand-tuned 1.6-litre four-cylinder engine with – of course – the company's soon-to-become famous VTEC system; a limited-slip differential; a close-ratio gearbox to make the most of the 182bhp output; and extra welding on the chassis to stiffen up the bodyshell.
On top of this, and in order to save even more weight, there was no air-conditioning or electric windows, and not even a radio. The focus was on going fast and having fun, with the same great sensory experience from behind the wheel.
• Best hot hatchbacks to buy now
The Type R EK9 came only as a three-door, and was never officially sold in the UK – although thanks to exposure on various racing games, the EK9 was a desirable and rare hot hatch so plenty of grey imports found their way over here. This generation of hot Civic was and remains so pure, with a perfect balance of power, grip and feel, that meant it was a hit straight out of the box.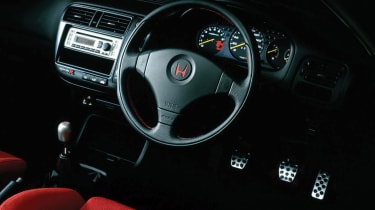 Honda Civic Type R 1997-2000: key specs
Engine: 1.6-litre 4cylPower: 182bhpTorque: 160NmTransmission: Five-speed manual, front-wheel drive0-62mph: 6.5 secondsTop speed: 135mphOn sale: 1997-2000
The all-time best fast Hondas
1. Honda NSX 1990-20052. Honda Civic Type R 2017-date3. Honda Civic Type R 2001-20054. Honda S2000 1999-20095. Honda Integra Type R 1995-20016. Honda Accord Type R 1998-20027. Honda Civic Type R 1997-20008. Honda Civic Type R 2007-20109. Honda CR-X VTEC 1989-199210. Honda S800 1967-1970
Fast Hondas Special