Honda Integra Type R 1995-2001
The hardcore Honda Integra Type R takes 5th place in our all-time fast hondas top 10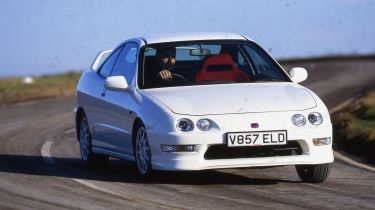 Honda's racy Integra is a rare sight on these shores, but when it landed on UK soil in 1997 it gave buyers their first glimpse of the now-legendary Type R badge. It's the original DC2 version that's regarded as the purest, although the later DC5 was still a wonderfully precise car to drive, and formed the basis of the racer that Matt Neal took to consecutive British Touring Car Championship titles in 2005 and 2006.
With its racy coupe looks and a bare cabin that put the focus firmly on fun, the Integra Type R offered a thrillingly hardcore drive. The original's compact, lightweight body tipped the scales at a mere 1,060kg, and with minimal sound deadening and a 197bhp 1.8-litre VTEC engine, it sounded every inch the touring car racer, too.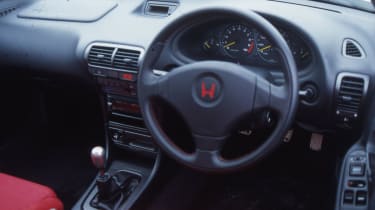 It was fast, with 0-62mph taking 6.2 seconds, but the Integra Type R's grin factor came from its handling. It's incredibly trick underneath: double-wishbone suspension all round, extra chassis bracing, thicker anti-roll bars and a 15mm-lower ride height combined to deliver an intoxicating experience that, for many, makes this the best front-wheel-drive performance car ever.
Honda Integra Type R : key specs
Engine: 1.8-litre 4cylPower: 187bhpTorque: 178NmTransmission: Five-speed manual, front-wheel drive0-62mph: 6.2 secondsTop speed: 145mphOn sale: 1995-2001
The all-time best fast Hondas
1. Honda NSX 1990-20052. Honda Civic Type R 2017-date3. Honda Civic Type R 2001-20054. Honda S2000 1999-20095. Honda Integra Type R 1995-20016. Honda Accord Type R 1998-20027. Honda Civic Type R 1997-20008. Honda Civic Type R 2007-20109. Honda CR-X VTEC 1989-199210. Honda S800 1967-1970
Fast Hondas Special