Honda NSX 1990-2005
The NSX was Honda's first ever supercar and is also first on our list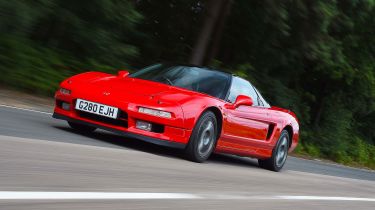 When three-time Formula One world champion Ayrton Senna got involved in developing the Honda NSX supercar, the results were stunning. With its agile handling and communicative chassis, this cut-price Ferrari rival cemented its place in history as one of the all-time greats, yet it's the kind of sports car anyone can drive.
The NSX debuted in 1990. But far from being a relic, it's still relevant today, especially considering the long-awaited NSX successor revealed in 2015 has had a mixed reception. The original mid-engined supercar came loaded with tech. It featured a high-revving, naturally aspirated 3.0-litre V6 with VTEC variable valve timing to add even more performance. Underpinning it was an aluminium structure and suspension that were incredibly light and strong.
A 'gentleman's agreement' between Japanese makers to limit power outputs in the nineties meant the NSX's engine was quoted at 276bhp. However, you can bet it had more – and it continued to evolve.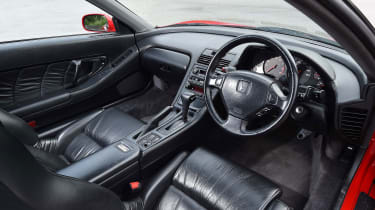 The car lost its trademark pop-up headlamps in a 2002 facelift, but it kept the larger 290bhp 3.2-litre V6 and six-speed manual box added in 1997. Our pictures show the design differences between the first and second-generation cars. When it comes to looks the original is the purest, but both versions offer a precise, mechanical gearbox shift action and a wailing powerplant that sings to an incredible 8,000rpm.
The NSX had a reputation for acrobatic mid-engined handling, but today its steering isn't quite as fast as that of modern performance machinery. It does have a hefty weight and beautiful feel, though, which allows you to throw the car around with more commitment than you might think possible, exploiting its incredible chassis balance. The soft suspension helps, too, and means that on the road the relatively lightweight 1,365kg NSX isn't troubled by bumps. There's a perfect balance between supple damping and taut body control that tops off the ideal sports car recipe.
The interior changed little over its lifetime, but its nineties character adds even more charm today, plus it's more comfortable and refined than you'd credit for a car celebrating its 30th birthday next year. The NSX was designed to be a rival to Ferrari, but also to show supercars could be usable and practical. However, it's the remarkable mechanicals under the skin that gave the NSX sparkle, while the new NSX hasn't sold well - it's worth noting the original struggled to sell too, so maybe the current generation will eventually find its way into our hearts like the original.
Honda NSX: key specs
Engine: 3.0-litre V6Power: 270bhpTorque: 280NmTransmission: Five-speed manual, rear-wheel drive0-62mph: 6.0 secondsTop speed: 162mphOn sale: 1990-2005
The all-time best fast Hondas
1. Honda NSX 1990-20052. Honda Civic Type R 2017-date3. Honda Civic Type R 2001-20054. Honda S2000 1999-20095. Honda Integra Type R 1995-20016. Honda Accord Type R 1998-20027. Honda Civic Type R 1997-20008. Honda Civic Type R 2007-20109. Honda CR-X VTEC 1989-199210. Honda S800 1967-1970
Fast Hondas Special