Kia Sportage KX-4 4x4 2014 review
Popular SUV gets updates for 2014, and we've driven the flagship Kia Sportage KX-4 4x4 model
Subtle enhancements to the eye-catching looks and added equipment will help the Sportage retain its place as Kia's biggest seller. It's a shame emissions still aren't class leading, but the updates to the suspension and sound insulation have improved comfort and refinement. We'd avoid the pricey Kia Sportage KX-4 4x4 and go for the cheaper to run front-wheel drive 1.7 CRDi.
The Kia Sportage success story shows no sign of ending and now Kia is hoping to write the next chapter with a subtly revised version of their big-selling compact SUV. 
Unsurprisingly, given its continued popularity - over 20,000 were sold in the UK last year, and it remains the firm's biggest seller in Europe and the UK – changes to the Sportage aren't dramatic.
Visually, the snazzy looks have been left alone, but if you look closely you'll spot a new grille, LED taillights and a shark fin roof antenna. Inside, there are extra soft touch materials across the layered dash and upper door panels, while higher trim models come with an excellent 7.3-inch touch-screen navigation system and Infinity audio system.
The engine line up is unchanged with a choice of 1.6-litre petrol and 1.7-litre diesel front wheel drive models, plus flagship 2.0-litre diesel all-wheel drive cars with 134bhp and 181bhp outputs.
With a range of 16 models prices stretch from £17,495 to £29,495 and it's the 1.7-litre CRDi diesel that'll continue to be the most popular in the UK, although our European test car was in a flagship KX-4 trim high-output 2.0-litre CRDi AWD.
However, it's the revisions Kia has made across the board to the chassis that'll be of most interest. With the aim of improving comfort and refinement, they've added a layered film into the screen to reduce wind noise, while to reduce vibrations, the front subframe is now bush mounted, rather than direct bolted to the bodyshell.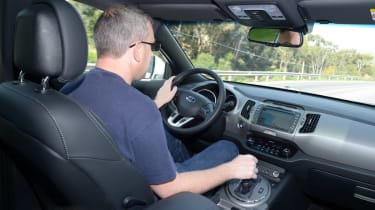 As a result motorway refinement has been improved and road noise is better isolated from the cabin. At the same time softer suspension top mounts and revised damping are aimed at addressing the Sportage's slightly firm ride. Our KX-4 trim car's large 18-inch wheels made it hard to judge the success of this revision and we'll have to reserve judgement until we drive a front-drive model on UK roads.
Also new to the Sportage is Kia's FlexSteer system, which gives you Comfort, Normal and Sport settings with varying levels of steering weighting. More importantly, the rack is now 4.5 per cent quicker, and combined with the suspension revisions, the Sportage responds a little sharper to driver inputs, although it's still someway shy of matching the class leading handling of the Mazda CX-5.
Still, the big-selling Sportage has been refined enough to ensure its continued popularity for some time yet.
To find more cars like this, visit our best 4x4s and SUVs page.