Porsche 718 Boxster - best rear-wheel-drive cars
It's the entry point to the Porsche range, but the Boxster is still a hugely entertaining machine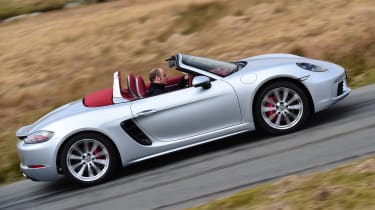 If you're a diehard Porsche fan, then you should be embracing the fact the Boxster and Cayman models ditched six-cylinder power for new turbocharged flat-four motors - after all, the original 356 was based on the flat-four-powered Beetle. The reality is that these engines were needed to meet emissions regs, and while they don't have the same spine-tingling exhaust note of their flat-six predecessors, there's no sacrifice made in terms of performance.
We'd choose the Boxster over the Cayman, just because you're less aware of the four-cylinder soundtrack when the wind is in your hair. But whichever model you choose, you'll be driving one of the greatest handling cars at any price, let alone in the mid-sized sports car class. With direct steering that's full of feedback, near-unbreakable grip and a chassis balance that simply encourages you to go faster, the Boxster can't help but put a smile on your face, and it inspires confidence wherever you go.
A great side-effect of the switch to four-cylinders, but one that most owners are likely to be too bothered about, is that fuel efficiency has risen to another level. Tell an owner of a 1996 Boxster that the current car can do 40mpg as well as run rings around it for performance and handling, and they'll look on in disbelief.