Renault Scenic name to return on new electric SUV
The new all-electric Renault Scenic will be a five-seater only, and our exclusive images preview how it could look when it arrives in 2024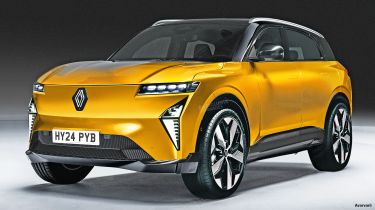 Renault's so-called 'Renaulution' is set to take another retro step forward with a reinvention of the legendary Renault Scenic MPV, the company has confirmed.
Launched in 1996 as a more family-friendly version of the Megane, the Scenic MPV only disappeared from UK price lists last year, as family buyers turned towards SUVs. So it's no surprise that the new Scenic is being reborn as an SUV.
The new model will use the all-electric CMF-EV platform that made its debut in the new Megane E-Tech Electric. Whereas that forthcoming vehicle is a competitor for Volkswagen's ID.3 hatch, the Scenic will be a rival to the ID.4 SUV.
Auto Express expects that the new Scenic E-Tech Electric will go on sale in 2024. It is rumoured that a concept teased as Renault revealed its 2021 results, and due to be fully revealed in May, will hint at the new production model, previewed in our exclusive images. Renault boss Luca de Meo said: "This concept will announce a future product. When we do concepts, we want to turn them into real cars."
When asked directly by Auto Express if the reborn Scenic would retain an MPV bodystyle, de Meo replied: "No. We are not going to do another MPV; we're going to make a more progressive model than that." He added that the Scenic would need to offer "space and range" beyond that of the forthcoming Megane.
The new Scenic will only be available as a five-seater. When asked at last year's Munich Motor Show if the CMF-EV platform could support seven seats, Renault's executive vice-president of engineering, Gilles Le Borgne, told us: "No, it's not planned to do that. We can have four-wheel drive, but not three rows."
That doesn't rule out a new seven-seat Grand Scenic model on a revised CMF-EV platform at some stage. And Le Borgne's comments did imply that a successor to the four-wheel-drive RX4 version of the original Scenic would be technically possible.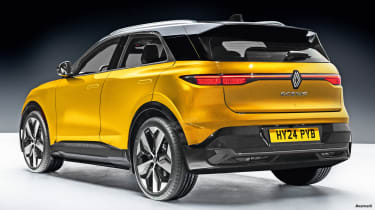 The new Scenic is expected to follow the design of the Megane, with a taller version of its sister car's new crossover styling, but with a few tweaks to the styling details.
Expect the front end to be bluffer than the Megane's, and with an unusual light treatment featuring LED running lights running vertically up each front corner, along with slim LED headlights and an oversized version of the latest Renault diamond logo in the centre.
The back should feature a tailgate that opens right down to bumper level with the now-familiar full-width light bar that'll do its best to add a feeling of width to this tall EV.
The CMF-EV platform should allow two different takes on the Scenic to be offered. A cheaper version with a 40kWh battery and a range of around 200 miles would target buyers in urban areas, while a 60kWh battery is likely to appeal to those wanting to take their families on longer journeys. Rapid charging should enable a top-up from 15 to 80 per cent in around 30 minutes, while the latest electronic safety and driver-assistance technology should maintain the Scenic's reputation for excellent crash-safety scores.
Inside, the taller Scenic should go some way to answering criticisms over a shortage of space in the back seats of the Megane – one of few drawbacks of the new model. The greater height will have huge benefits in the boot, too. And as with the original Scenic, expect some clever seat-folding engineering that will let the car switch simply from five-seater to van.
Elsewhere, the Scenic is expected to make use of the Megane's impressive interior technology, with a 12.3-inch digital instrument cluster that's seamlessly linked to a 12-inch portrait-orientated infotainment screen, powered by Google. Expect eco-friendly sustainable materials to feature throughout the cabin, too.
Even though large 20-inch wheels are likely to follow on to the Scenic from the Megane, Renault engineers will probably move the focus more towards comfort to suit more family-orientated buyers.
However, unlike with the upcoming new Renault 5 EV, Renault performance arm Alpine has no plans to fettle either the Megane or the Scenic, concentrating on its own CMF-EV SUV model, the GT X-Over that's set to arrive after the Scenic in 2025.
History: the changing face of Renault's Scenic
Renault Scenic Mk1 (1996-2003)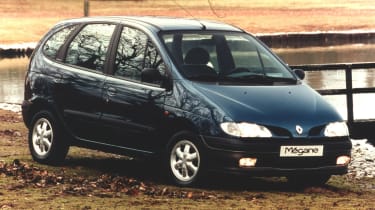 Original Scenic was part of an MPV boom in the nineties as families looked for more space with some style. A facelift arrived in 1999.
Renault Scenic Mk2 (2003-2009)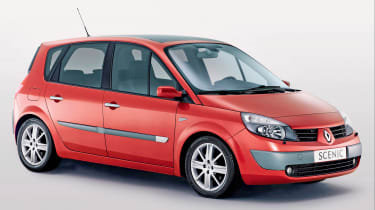 A reinvention of the look, following the Megane, was joined by much more tech and improved safety. Frugal diesels dominated sales.
Renault Scenic Mk3 (2009-2015)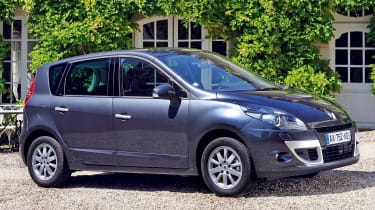 Third-generation Scenic coincided with the rise of the SUV. Renault launched a crossover-styled XMOD version at the end of its life.
Renault Scenic Mk4 (2015-2021)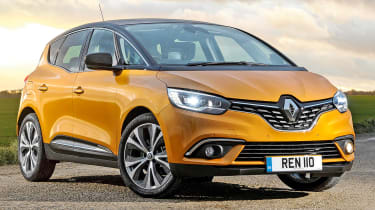 Extra crossover cues came with the fourth Scenic; the styling was more emotional, but MPV market was declining by now.
What will the new Renault Scenic have to beat? These are the best electric SUVs on sale right now...