Toyota Yaris 1.0 Active – cheapest cars to insure
The Toyota Yaris is a decent supermini choice, and the 1.0-litre Active model makes the argument further sitting in group 2 for insurance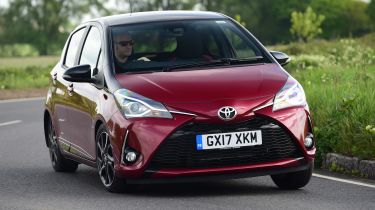 Aside from the hot £26k GRMN model the Yaris range shouldn't be too strenuous for the wallet, especially when you can get cars which sit in as low as group 2 for insurance. Opt for the 1.0-litre Active model and on top of the group 2 insurance you will be treated to Bluetooth, USB connectivity, air conditioning and automatic wipers.
Economy is fairly strong with the 1.0-litre unti, albeit behind that of the hybrid (not all that surprising). Toyota claims the Yaris will return 65.7mpg, which is strong enough to keep trips to the fuel pumps nice and low.
The Yaris has never been a car to conquer a twisting B road with, and GRMN aside the latest generation is no exception. While turn-in is positive, the Ford Fiesta and Peugeot 208 beat it hands down for driving engagement. That said, all the controls for the Yaris are light and easy to use, which may well appeal to some more than the driving pleasure its rivals offer.
Cheapest cars to insure 2018
Click the tabs on the top left of this page or the links below for full details on the cheapest cars to insure in the UK at the moment.