Best used hot hatcbacks
The Ford Fiesta ST is the best used hot hatchback in our Used Car Awards 2020
Best used hot hatchback: Ford Fiesta ST
Our pick: Ford Fiesta ST-2 (2015/15, 40k miles, £8,288)
The previous-generation Fiesta ST is one of our favourite hot hatchbacks of all time. It does everything well – it looks good, is practical, handles superbly, and has enough power to worry far more expensive sports cars on the right stretch of road.
It's powered by a 180bhp 1.6-litre turbo four-cylinder petrol engine – although Ford's 'overboost' function can temporarily increase this to 197bhp under full throttle. The engine is connected to a snappy six-speed manual gearbox that means a 0-62mph time of 6.7 seconds and a top speed of 139mph.
If you're not satisfied with the level of performance from the standard Fiesta ST, look for one with the Mountune upgrade pack. Or you can always take a standard car to the tuning firm who, with a couple of bolt-on accessories, can increase the output to 212bhp – dropping the hatchback's 0-62mph time to around six seconds. What's more, Mountune's entry-level upgrades are sanctioned by Ford, so the ST retains its warranty cover. Even though this might have expired by now, it's a good sign for reliability.
The most appealing part of ST ownership, though, is its sublime chassis. The standard Fiesta is great to drive, and the ST built on these foundations with new dampers, 15mm lower suspension, bigger brakes, a quicker steering rack and a clever torque-vectoring system which helps reduce understeer when cornering.
This means the Fiesta ST grips keenly and turns in sharply, which gives you the confidence to carry speed through corners. Ford hasn't made the suspension too low, so it'll still handle potholes and speed bumps with ease, although the ride is on the firm side.
However, the Fiesta ST isn't a difficult car to live with every day. The Recaro sports seats are comfortable and supportive, and there's a generous 290-litre boot. But it's the fun factor on offer here for the cash that makes it a great used buy.
Finance options
You can't put a price on fun, but £191 per month for a Fiesta ST-2 on PCP finance through BuyaCar.co.uk is a pretty good starting point. That's for a three-year contract with a £900 deposit – and is far less than the £332 per month needed for a brand-new Fiesta ST. The optional final payment – should you want to buy the used car at the end of the contract – is also much more affordable, at £2,900.
Commended
Peugeot 308 GTi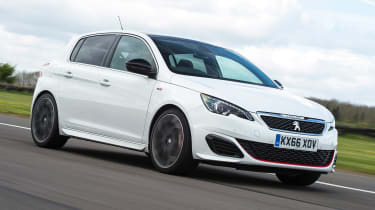 The 308 GTi delivers sharp handling and plenty of speed wrapped up in a good-looking body. It's powered by a 266bhp 1.6-litre turbo four-cylinder, which is enough for a 0-62mph time of six seconds flat. Just make sure you get the 'by Peugeot Sport' model, because it handles far better than the standard car, plus gets a limited-slip diff and bigger brakes.
Left-field choice
Suzuki Swift Sport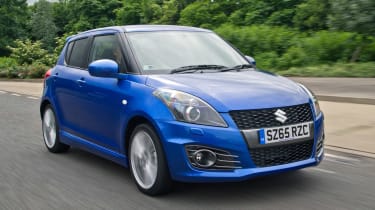 With a naturally aspirated 1.6-litre four-cylinder engine, the Swift Sport loves to rev, but the real delight is in its handling. Modern hot hatches have turned to turbos to improve performance and efficiency, but the Suzuki has an old-school vibe that makes you want to drive it harder – and it has the ability to keep up and, importantly, entertain.