Honda Civic Type R 2017-date
The latest Honda Civic Type R grabs 2nd spot in our all-time greatest fast Hondas round-up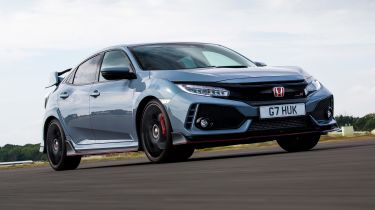 Honda's current hot Civic is our reigning hot hatch champion and it's easy to see why. A turbocharged 2.0-litre engine gives this 'FK8' generation Type R 316bhp and a 0-62mph in 5.7 seconds. This 169mph Honda is one of the quickest hot hatches you can buy, the front-wheel-drive Nürburgring lap record of seven minutes 50.63 seconds it set in 2018 has only just been narrowly beaten by the new Renault Megane RS Trophy R. 
The pumped-up styling hints at the car's intent, but it's form following function. Those gaping vents help cool the engine, while the splitter, wing and diffuser produce genuine downforce for grip and stability. You need it, as the chassis generates huge g forces thanks to the +R mode that stiffens the dampers, adds weight to the steering and sharpens throttle response. Plant the right pedal and, thanks to 400Nm of torque, the Type R explodes down the road.
• Best hot hatchbacks to buy now
You needn't work the gearbox as hard as in its predecessors as a result – but you can if you want to. There's still fun to be had chasing the red line, and as with every Civic Type R before, the six-speed manual has a delicious shift and is nicely weighted and precise.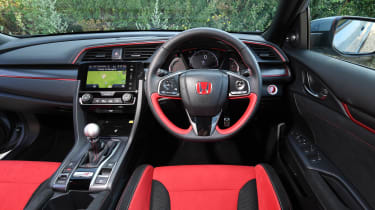 Great traction from a limited-slip differential ensures the Civic can easily put its power down, while massive 350mm Brembo brakes deliver alarming stopping power. The exhaust system doesn't sound as thrilling as the Ford Focus RS, but as with every Civic Type R to go before it, there's a multitude of aftermarket systems for you to choose from. 
In GT spec, the current Civic Type R gets dual-zone climate control, wireless phone charging, Garmin sat-nav and blind spot warning - giving it the useability you'd expect a hot hatch to have.
Honda Civic Type R: key specs
Engine: 2.0-litre 4cyl turboPower: 316bhpTorque: 400NmTransmission: Six-speed manual, front-wheel drive0-62mph: 5.7 secondsTop speed: 169mphOn sale: 2017 to date
The all-time best fast Hondas
1. Honda NSX 1990-20052. Honda Civic Type R 2017-date3. Honda Civic Type R 2001-20054. Honda S2000 1999-20095. Honda Integra Type R 1995-20016. Honda Accord Type R 1998-20027. Honda Civic Type R 1997-20008. Honda Civic Type R 2007-20109. Honda CR-X VTEC 1989-199210. Honda S800 1967-1970
Fast Hondas Special