Owners name Britain's best second-hand cars
Auto Express's Driver Power used survey sees the fourth-generation Kia Sportage crowned the best second-hand car on the market today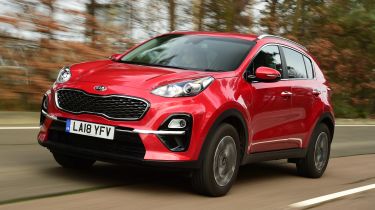 The Kia Sportage is the best second-hand car money can buy, according to the thousands of motorists who took part in Auto Express's annual Driver Power used car survey.
The Sportage put in a peerless performance, taking the top spot in four of the nine individual Driver Power categories, with owners praising its comfort, practicality and infotainment systems in particular.
But while the Sportage is the undisputed champion of the Driver Power used survey, the fourth-generation Toyota Prius was hot on its heels, narrowly missing out on the Driver Power double, having been voted the best new car money can by in Auto Express's new car survey back in April. No other used car was said to be more reliable than the latest Prius, which was also voted as the cheapest used car to run, while owners also praised its relaxed driving experience and comprehensive safety features.
The rest of the Driver Power used top 10 was dominated by Japanese and Korean cars, the bronze medal going to the Mk3 Kia Sorento, and fourth to the latest Lexus RX. The fifth-placed Skoda Superb was one of only two European cars in the top 10, with the original Jaguar XF placing seventh.
Three of the remaining top 10 spots were filled by Lexus models (the third-generation IS and RX, and the NX), while the Toyota RAV4 took the remaining place. The Skoda Yeti - a previous Driver Power used car champion - missed out on the top 10 in 2019, placing 11th.
The Driver Power used and new car surveys represent a comprehensive assessment of cars by their owners, with models rated in nine broad categories (such as ride and handling, infotainment, reliability, and running costs), with owners asked to rate their cars in 31 specific areas.
The latest Mazda MX-5 was judged to be the UK's best-used car for those after a thrilling driving experience, with the previous Nissan Leaf having the highest-rated drivetrain.
Position Model

Driver Power score

Comments

1

Kia Sportage Mk4

92.78%

"There's no better used car buy"

2

Toyota Prius Mk4

92.76%

"Most reliable car of all"

3

Kia Sorento Mk3

91.49%

"Comfortable, relaxed & spacious"

4

Lexus RX Mk4

91.46%

"Beautifully built, inside & out"

5

Skoda Superb Mk3

91.42%

"Excellent infotainment & outstanding space"

6

Lexus IS Mk3

91.40%

"Hard to find any negative points"

7

Jaguar XF Mk1

91.11%

"Classy, handsome & great to drive,"

8

Lexus RX Mk3

90.53%

"A pleasure to drive"

9

Toyota RAV4 Mk4

89.83%

"Dependable & practical

10

89.71%

"Lowest proportion of reported faults"
Click here to read the results of Driver Power 2019...