Mazda MX-5 - best convertibles
The rear-drive two-seater Mazda MX-5 is a great driver's car, roof up or down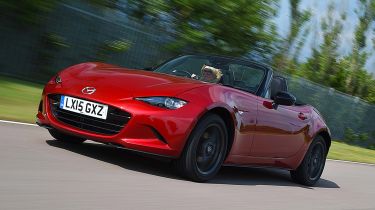 The fourth-generation Mazda MX-5 had some big boots to fill. Unprecedented success over the last 25 years has elevated Mazda's roadster to become the world's best-selling two-seater sports car. We especially love them here in the UK, with around half of all Mazda MX-5s sold in Europe going to British buyers.
Smaller, and over 100kg lighter and more efficient than its predecessor, the latest Mazda MX-5 has gone back to its roots in a bid to offer genuine lightweight sports car thrills for buyers whose pockets aren't deep enough for a Porsche Boxster.
The fabric roof stows manually behind the driver and passenger – although if that's too much effort for you, there's the electric hard-topped MX-5 RF – while the boot and cabin offer more space, despite the car's smaller footprint on the road.
Best convertible cars 2018