Best used superminis
The SEAT Ibiza is the best used supermini car in our Used Car Awards 2020
Best used supermini: SEAT Ibiza
Our pick: SEAT Ibiza 1.0 TSI 95 SE (2017/67, £7,995, 35k miles)
Just a couple of years ago, the SEAT Ibiza topped the supermini sector in our New Car Awards. Now you can pick up a current-shape car for as little as £7,995, making it our favourite used supermini in 2020.
You don't have to scrimp when it comes to kit or engine choice either, because the SE model we found comes with a colour touchscreen infotainment system with the latest phone connectivity for navigation.
This 1.0 TSI 95 model boasts a broad spread of power and torque, so performance is brilliant too; this is still the engine of choice in a brand-new Ibiza, so it makes sense to go for this car at such incredible value.
The big factor that elevated the Ibiza to the top of its class was the space on offer inside. It's roomy in the rear to the point where this fifth-generation Ibiza can occasionally operate as a family car. The 355-litre boot means there's almost as much luggage space here as you'll find in a current-shape Vauxhall Astra.
Quality is sound, and although the cabin is a little plasticky, the materials used are hard-wearing. So even three years and 35,000 miles after it was first registered, this Ibiza should be in good condition. With mileage under the average for this age of vehicle as well, there's plenty of life in this car.
Our road tests when the car was brand new saw the 1.0 TSI 95 engine return around 50mpg, so the Ibiza should be frugal to run. Yet the latest MQB A0 underpinnings mean that the Ibiza's chassis is fun and agile, like any good supermini should be.
The steering is direct, and while the ride is a little firm, SE comes with a comfort-focused suspension set-up, and refinement on the move – especially on the motorway – doesn't give away the SEAT as a small car.
Finance options
PCP finance on a brand-new Ibiza is reasonably good value, but going for a three-year old model could still slash 40 per cent off your monthly payments. This means that you could finance a three-year old model for just £155 per month with a deposit of £850. That's not bad for a car that's barely any different to the ones available in showrooms today. Run the Ibiza for three years, and the total finance cost comes in at £6,430.
Commended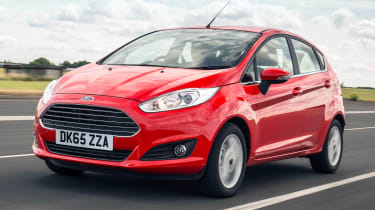 Until recently, the Fiesta ruled this category, but now that current Ibizas have dropped to appealing values, the Ford is relegated. Yet with the 1.0-litre EcoBoost engine and a superb chassis, it's still a great buy. It's not as practical or modern as the Ibiza, but not many used superminis are so affordable.
Left-field choice
Toyota Yaris Hybrid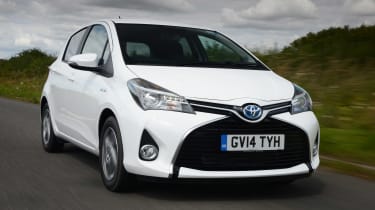 The car market is undoubtedly moving towards electrification, but if you want a hybrid, you don't have to buy new – the Yaris Hybrid combines petrol power with an electric boost for seriously impressive efficiency if you spend most of your time driving around town. Reliability is excellent, too